There are SO many delicious ways to roast veggies ~ autumn is THE perfect time to enjoy the harvest and this dish is high on the 'comfort food that's good for you' scale! It was one of those days when we felt like something warm and nourishing and this just came together to create a family favourite! We have enjoyed it as a vegetarian main or as a side dish and we've added a small amount of  chopped spicy sausage on occasion. Don't have the same veggies in your kitchen? Substitute what you have.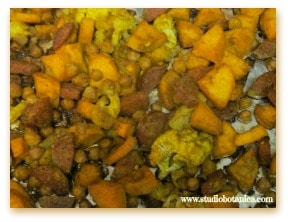 Here's what's in this yummy dish:
Sweet potatoes are high in fibre, an excellent source of potassium and good sources of Vitamins A & C. They are low in sodium. This combination of high potassium and low sodium content makes them an excellent choice  for those wanting to control blood pressure issues.
Onions – helps to fight colds, inflammation, helps vitamin C to work better in the body
Cauliflower contains many of the B vitamins, omega-3 fatty acids and vitamin K as well as a good source of vitamin C and manganese; powerful antioxidants. Anti-cancer properties are well researched
Chickpeas – (aka Garbanzo beans)  high fibre, able to help regulate blood sugar, contributes to lower cholesterol
Turmeric  – tonic, anti-inflammatory herb, digestive support, anti-cancer, supports cardiovascular system
See more info about Turmeric here.
Curry  powder    – sweet curry – carminative, digestive support
It's easy!
Ingredients:
Autumn Veggie Bake with Turmeric
2015-10-28 11:02:06
Ingredients
1 medium sized onion, diced
3 sweet potatoes, diced
3 cups cauliflower, chopped bite sized
1 can chickpeas (garbanzo beans)
1/2 cup vegetable or chicken stock
1 tbsp turmeric powder
1 tbsp curry powder
Sea Salt + freshly ground black pepper.
Optional - sprinkle of hot chili flakes
- spicy sausage, finely chopped.
Instructions
In a skillet, saute onions in small amount of olive oil, until softened.
Sprinkle turmeric, curry, S + P , hot pepper flakes(if using)
Stir well until well blended.
Add the sweet potatoes, cauliflower and chickpeas.
Mix thoroughly. Add the veg or chicken stock. Mix.
Add the sausage, if using.
Prepare a couple of baking sheets. Either grease lightly with butter or oil or use parchment paper or foil to cover them.
Gently pour the veggie mixture onto the baking sheets, ensuring veggies are spread out evenly if possible.
Bake at 350 degrees 30-35 minutes.
Notes
It's ready ~ Enjoy !
Studio Botanica http://studiobotanica.com/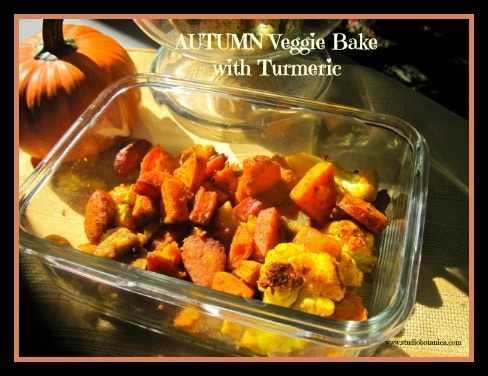 Perfect autumn veggie dish! So tasty. Hope you try it. Turmeric adds to the anti-inflammatory support.
Here's an article about this wonderful herb.  and here too.
Are you using turmeric? What do you make with this super star herb?
green blessings,  Carol