This week's offering to celebrate succulent green choices features Swiss Chard. This leafy green annual is a member of the beet family and can be purchased at local farmers markets or at your grocery with white, red, or multi-coloured stalks. This dish is rich and satisfying and an easy light main dish or colourful side. Gotta love carmelized onions too! Swiss Chard & caramelized onions?
You'll want to try this one!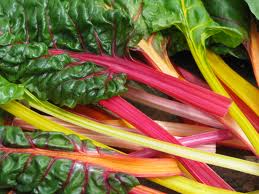 SWISS CHARD + Caramelized Onions
Swiss Chard & Caramelized Onions
2016-10-30 09:22:06
Delicious!
Ingredients
1 large onion, chopped
2 tbsp olive oil
2 tbsp unsweetened apple sauce (or 1 tsp brown sugar)
1 bunch Swiss Chard, rinsed and chopped
2 tbsp capers, rinsed
1/4 cup Kalamata olives, rinsed and chopped
1 lemon, juiced * or 1/2 lime and 1/2 lemon or combination
Black pepper, freshly ground
Sea salt (optional)*
Instructions
In a frying pan, cook onions in the olive oil over medium heat until they begin to brown.
Lower the heat and allow to simmer slowly for 20 minutes.
Stir in the applesauce (or brown sugar) and continue cooking for a few more minutes.
When the onions are tender and golden brown, stir in the chopped Swiss chard and the olives.
Cook until the chard is slightly wilted. Stir in the capers and continue cooking until the chard is wilted, about 3 minutes.
Season with black pepper and squeeze the citrus over the entire mixture.
Notes
* note as the olives and capers can provide a saltiness to the dish, add sea salt sparingly if at all...to your taste.
Studio Botanica http://studiobotanica.com/
WHY Swiss chard?
This powerhouse of nutrients can be prepared easily in ways similar to the dish above or can be used anywhere that Spinach is suggested. The smaller 'early' leaves are delightful salad ingredients as well.
Chard Highlights:
Chard is low in calories (19 kcal per 100g raw, fresh leaves) and fats.
Chard is often recommended in weight reduction programs and for helping to control cholesterol issues
Chard leaves are an excellent source of Vitamin A, Vitamin B, Vitamin C, Vitamin K
Chard is a great source of Omega-3 fatty acids
Chard is a superb souce of minerals: calcium, copper, iron, manganese, phosphorus and sodium.
Chard is a rich source of flavonoids and anti-oxidants like Beta-Carotene, A-carotene, Lutein and Zeaxanthin
This green leafy powerhouse. enjoyed on a regular basis is believed to protect from colon and prostate cancers and cardiovascular disease.
It has been found to prevent osteoporosis, iron deficiency anemia, and vitamin A deficiency.
Here's hoping that you ENJOY this delicious recipe!
How do YOU use chard in your meals?
Save