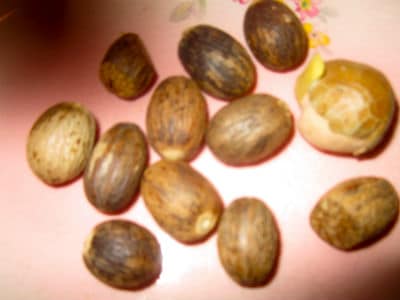 Nutmeg is the kernel of a nut-like seed inside the fruit of the nutmeg tree. It can be spicy or sweet or quite bitter. Traditional healers have used it for centuries. Do you know that Nutmeg offers much in the realm of healing medicine??

Nutmeg's unique taste comes from myristicin, which is a volatile oil. Myristicin is also found in carrots, celery and parsley but is strongest in Nutmeg. Not only has Nutmeg been found to reduce cholesterol but also with a focus on LDL (aka bad cholesterol). Thai researchers have discovered that the extract of Nutmeg can kill leukemia cells. Others in South Korea are studying the anti-aging effects on human skin. Apparently there is a compound in Nutmeg which protects skin from damaging UVB rays of the sun. While this ongoing research continues, here are some more reasons to include Nutmeg in your day.
NUTMEG HIGHLIGHTS:
alleviates anxiety symptoms
contributes to memory improvement
significant anti-depressant
known to kill the 'rotavirus", one of the causes of 'travellers diarrhea"
Nutmeg appears to calm nervousness and at the same time, help to improve cognitive function. In this busy day and age….How useful is that? I think we should be looking for ways to add Nutmeg to meals every day!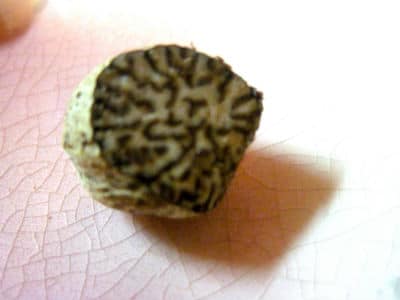 It can be purchased 'ground' in powder form. When possible, buy it whole and use a grater or mini-plane to add it to your meals. North Americans, and folks the world over have used the unique flavours of Nutmeg to flavour cookies, cakes and pies and add that certain 'something' to winter's warming drinks like Eggnog, mulled wine, hot rum; Kahlua and cream and of course, hot chocolate.
In other cultures, Nutmeg is used in a variety of dishes including meat, potatoes, dumplings and vegetable dishes. It's Nutmeg that we taste in the famous French "Béchamel" and in "au gratin" veggie dishes.
In Grenada, where many believe Nutmeg originated, it is used in everything from soups to sweet potato pie and chicken to ice cream and a variety of 'island cocktails'. Here's a tasty syrup that is a scrumptious addition to sweet & savoury meals!
Grenada's Nutmeg Syrup
1/2 cup water
1/2 cup sugar
1/4 cup dark rum
4 tsp freshly grated nutmeg
Put the water and sugar in a small pot and stir until dissolved.
Add the rum and the Nutmeg.
Simmer until slightly thick, about 10 minutes.
(from "Healing Spices" by Bharat B. Aggarwal)
This week, I made one of my favourite soups. It's a Carrot-Ginger-Orange soup; velvety, warming, tasty. I added 1/4 tsp of Nutmeg to see if it made this yummy soup even better. That's YES! For the recipe, click here.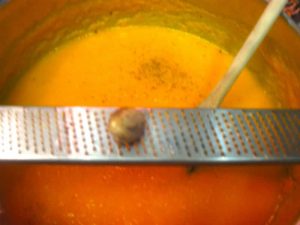 Yesterday, in an effort to better 'food-combine' (i.e. protein and veggies as opposed to protein and starch), I created a  meal which included 'Mashed garlicky Cauliflower' as a substitute for potatoes! I grated fresh Nutmeg, just before serving and can report that it's a hit!
Magical Mashed Cauliflower
1 head cauliflower, cored & cut into flowerets
1-2 tbsp butter
3 tbsp Greek-style yogurt (or any plain yogurt or sour cream)
3-4 cloves Garlic, peeled
Milk – optional if more liquid needed
Sea salt and Pepper
1/4 tsp Nutmeg, freshly grated if possible
Steam the cauliflower and garlic together (until tender)
Remove to pot and mash.
Add the butter and yogurt, S & P
Use a little milk if you desired to change consistency.
Use a mini-plane or similar to grate the Nutmeg over the
mixture
This is another recipe which is so easy to change-up..
I have made it with horseradish, with great results.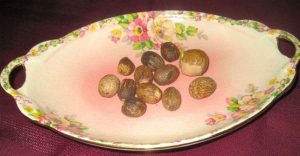 Add Nutmeg to baked or roasted potatoes or to potato salads! It goes really well with many veggie dishes and pairs especially well with dairy ~ a classic combo.
Use it in combination with beans + lentil soups, with cabbage, onion tarts, stews, and casseroles..It's versatile.
Try it~ Buy some fresh Nutmeg &  Experiment!
Love to hear about how YOU use this unique Spice