Celebrating our herbal Mother on Mother's Day!
Mother, as herbalists affectionately call Motherwort, is a wonderful herb to know. She is one of my most favourite herbal allies and I met her a very long time ago. Over the years, she has become a good friend. Motherwort, definitely a woman's herb in my mind offers us so many healing gifts.
On this Mother's Day – let's celebrate all the mothers… our own mothers, those of us who are mothers, and our mothers' mothers ~ as well as this 'green mother' the sweetest of strong, nourishing, supportive herbs.
MOTHERWORT (Leonurus cardiaca)
From the mint family, motherwort is one of the first plants coming up in my garden this month!
In late June to early July, we harvest the top 20-30 % of the plant in her early flowering stage. Her dainty flowers on either side of her proud, usually very sturdy central stalk.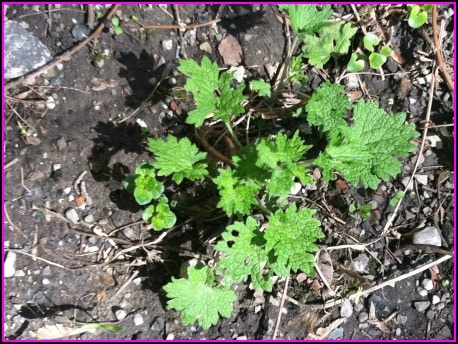 Motherwort medicine is a wonderful general tonic. We use the tincture, normally, for anxiety, depression, for difficulty sleeping, for times when we feel stressed out. Motherwort tincture can be very effective for digestive issues, especially when 'stress' is a big part of the 'mix'.
Motherwort is a strong ally in reproductive system conditions. She has a gentle, yet powerful ability to tone and relax the uterus. Motherwort medicine can be used for amenorrhea, dysmenorrhea and menorrhagia! Well that's a mouthful! What that means? For scanty periods which need support, for painful periods and for heavy bleeding during menses. I've used motherwort in combination with other herbs to help curb PMS symptoms. Traditionally, motherwort tincture is very soothing for mood swings, when we are feeling 'sensitive', as well as anxiety and feeling 'down' ~ connected to hormonal imbalance. For this reason, it's very helpful in cases of PMS and menopausal moodiness too. I've used motherwort medicine successfully with clients and menopause related heart palpitations.
Perhaps, motherwort herb, most famously, because of her latin name "cardiaca", she is notable for her help with situations of high blood pressure, cardiac arrythmias and palpitations. Sometimes motherwort medicine can really help to increase poor circulation, in the cardiovascular system as well as peripheral circulation. (cold hands and feet)
So – think Motherwort Medicine – in times of nervous tension, as a general tonic, as a calm supportive herbal medicine, generally. Think of her— when digestive issues due to stress!
Think of Motherwort with female reproductive issues and as a super cardiac supporter!
I prefer tincturing the top 2/3 of the plant, as opposed to making a tea, which is quite bitter. The tincture combines well with other herbs and is always a part of my apothecary. As a bitter, it's especially perfect during SPRING as a liver supportive herb!
Want some more details? Have a peek at the lists below—for the full scoop on Motherwort's healing properties!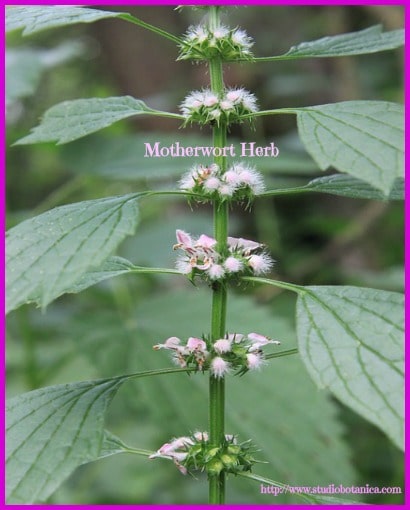 Primary Properties:
Antidepressant,
antispasmodic,
aperient,
anxiolytic,
astringent,
cardiac,
diaphoretic,
diuretic,
emmenagogue,
nervine,
relaxant,
tranquilizer,
uterine tonic.
Also:
Analgesic,
anticatarrhal,
bitter,
carminative,
cholagogue,
decongestant,
depurative,
euphoric,
expectorant,
febrifuge,
hepatic,
hypotensive,
sedative,
sialagogue,
stomachic,
vasodilator (neural),
+ vulnerary. *** Click here for glossary of herbal therapeutics.
NOTE: Be aware that motherwort, as a part of the mint family, can have a depressive affect on the thyroid. Use with guidance of an experienced herbalist. Contraindications: Pregnancy.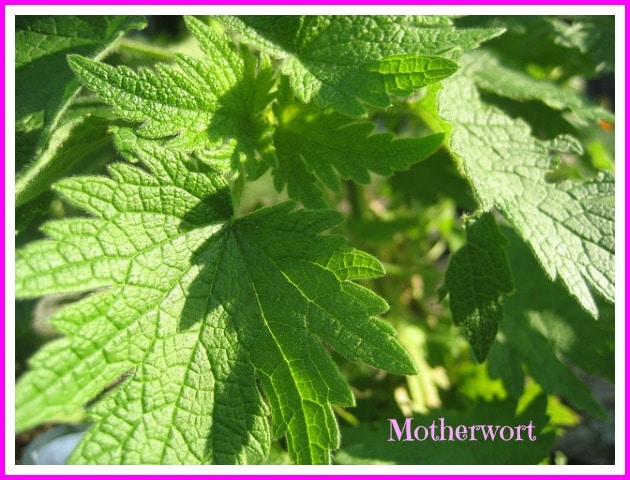 May we celebrate our mothers ~ ALL mothers.. Have a wonderful day!