ANYtime is a great time to support our liver! There are so many ideas and many are a part of my rituals for this time of year. There are lots of healthy ideas for stepping out of the winter months and into spring's gentle light and energy of renewal. 
Here's an easy 'herb sprinkle' idea: Milk Thistle Sprinkles = the easiest idea ever. Takes less than a minute. You just need some great quality milk thistle seeds and a spice or coffee grinder!!
Research indicates that the  silymarin contained in Milk Thistle helps to restore liver function and helps to improve digestion in situations where when damage has occurred from 'general toxicity' as well as alcohol, drugs, radiation, mushroom poisoning, toxic chemicals, or heavy metals.
To learn more about this liver supportive super star, I've shared the highlights here.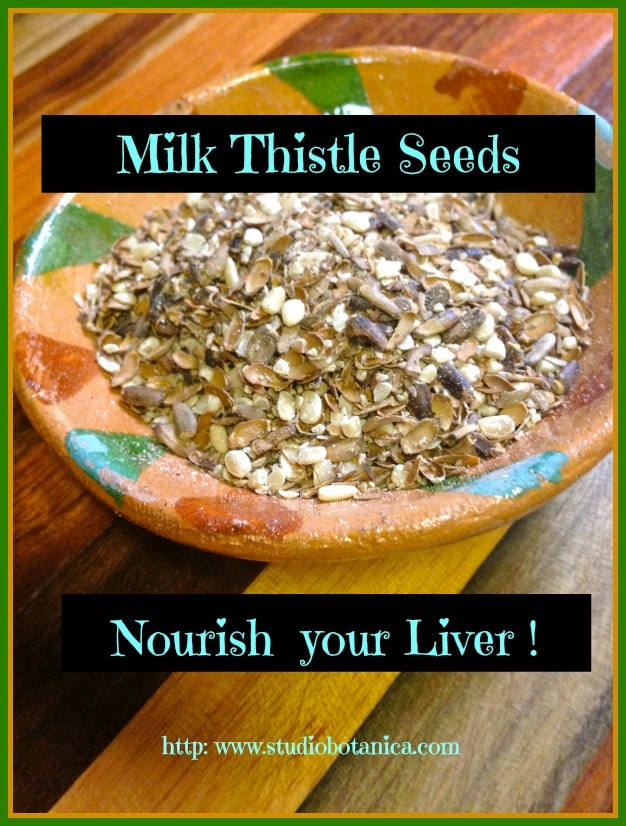 Milk Thistle Sprinkles
Milk Thistle medicine can be as EASY as a quick grind and sprinkle!
Grind some milk thistle seeds in a coffee grinder and store in the freezer.
Sprinkle 1-2 tablespoons of the ground seeds into your smoothies or over veggies, in stews, soups or sauces. 
Therapeutic dose? Take 2 tablespoons, if possible, 2x daily for a few months and LOVE your liver!!
I recommend you purchase the whole seeds whenever possible. Here's what I am using at the moment: Starwest Botanicals Organic Milk Thistle Seed, 1 Pound
.
Much better to purchase whole milk thistle seeds and not the powder. It's best to have whole seeds and grind a small amount at a time, to be stored in fridge or freezer.
If you purchase a pound of milk thistle seeds, they are easy to tincture and also make a 'salt reducing' condiment. Read about Milk Thistle gomasio here. 

 Here's hoping that you try this easy but powerful liver nourishing and supportive idea and create a healthy new habit ~ for LIFE!          
                                                       ~ with love and green wishes for best health,   Carol
Save
Save
Save
Save
Save
Save
Save
Save
Save
Save
Save
Save
Save