Support your liver with Milk Thistle Gomasio!
Gomasio or "gomashio" is a seasoning blend commonly sprinkled on simple rice dishes in Japan. Gomasio translates as  "salt and pepper".  Traditional gomasio is made with black sesame seeds and white sea salt! There are many versions.  Try MILK THISTLE GOMASIO!
Milk Thistle Gomasio
In this 'adapted' recipe, I've used toasted sesame seeds along with hemp seeds, milk thistle seeds, and a touch of that gorgeous Himalayan pink salt. This combination creates a mineral dense, liver supportive, nourishing + healthy condiment!
In an effort to add flavour, reduce salt consumption (I am a savoury salty as opposed to a sweet toothy….) and add liver support all year ~ this is another of my own annual rituals! I wanted to share with you ~ as it's EASY to make and tasty too, with SO many meal enhancing uses!
Milk Thistle seeds can be a wonderful support for your liver. Herbalists traditionally use Milk Thistle seeds, tinctured, alone or in formulae in many digestive and hepato-trophic tonics (liver supportive).  
Why not also EAT your medicine?
I like to use the seeds whenever possible, in tasty condiments like this one: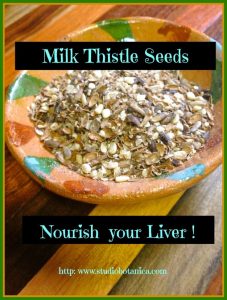 Milk Thistle Gomasio
2016-04-28 10:17:51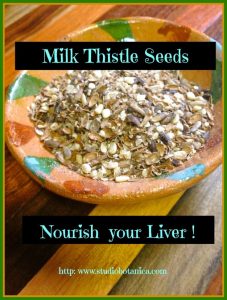 Tasty Liver Loving Condiment!
Ingredients
1 cup sesame seeds, organic preferred, raw (to start with!)
1/4 cup hemp seeds (sometimes called hemp hearts)
1/4 cup milk thistle seeds
1 tbsp Sea Salt (or your favourite good quality salt)
To make
Dry toast the sesame seeds by gently warming  them in a pan over medium heat, tossing or stirring constantly. When the oil begins to release and the seeds start to turn golden, remove the seeds from heat and place in a bowl to cool. Be very careful not to let them burn!
Next toss all ingredients together until well mixed and grind in a food processor.
Notes
Sprinkle on your meals. Love and support your liver!!
Studio Botanica http://studiobotanica.com/
Purchase locally or online here: Milk thistle seeds and Milk thistle tincture are ALWAYS on hand in my home. I normally order online from here:
Starwest Botanicals Organic Milk Thistle Seed, 1 Pound
When I'm feeling energetic, I use my 'suribachi' (Japanese grinding bowl), or a mortar & pestle.
Here's my 'suribachi':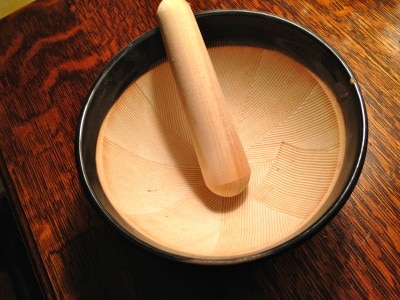 Find it in your local kitchen specialty shop or online here from my Amazon partner:
Helen Chen's Asian Kitchen 5.5-inch Ceramic Suribachi Set
Here's a simple version of that famed Japanese condiment:
It's been a favourite of my family for years:
Sesame Gomasio
You will need:
1 tsp sea salt
5 tbsp (or 1/3 cup) sesame seeds
To make:
Heat a frying pan over moderate heat. (Cast iron if possible)
Add 1 teaspoon of sea salt.
Remove from the heat.
Pour the warmed salt into a mortar and pestle. Grind until it is fine
Using the same pan, add the sesame seeds.
Move the pan in a gentle swirling motion and with moderate heat until the seeds crack a little
Remove from the heat.
Pour the sesame seeds into the mortar and pestle.
Grind until half (50 percent) of the sesame seeds are cracked and ground.
Pour the salt in and mix thoroughly
 You can change this up to suit your needs, your family's tastes and any food sensitivities!  
I love to combine the following for a SUPER version with these organic ingredients:
SESAME seeds
HEMP seeds
FLAX seeds (golden)
FLAX seeds (brown)
CHIA seeds (black)
Just make it 5 parts seeds to 1 part Sea Salt and you have a fabulous…oh SO tasty condiment!
Sprinkle over grains, greens, roasted veggies, salads.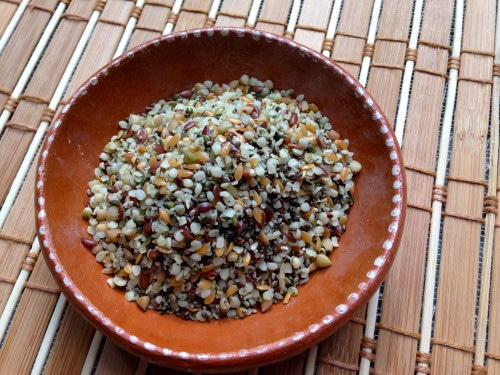 Prefer a finer version?  Funnel the concoction into a handy grinder and keep handy!!
I have several in my pantry like this one, which makes it easy to make small amounts of my favourite herbal combinations, ready to use:
Cole & Mason Herb and Spice Grinder, Glass Spice Jar
What do you think of these ideas?  
Do you make gomasio or a version of this old time condiment?