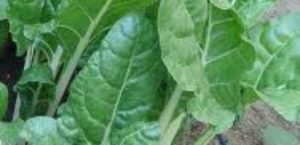 It's MONDAY! Here's a super meatless meal!
This is one of my favourite dark green leafy lunches!!
Swiss Chard & Caramelized Onions
1 large onion, chopped
2 tablespoons olive oil
1 teaspoon brown sugar (or 1-2 tbsp unsweetened apple sauce)
1 bunch Swiss chard, rinsed and chopped
1/4 cup kalamata olives (rinsed and chopped)
2 tablespoons capers (rinsed)
1/2 teaspoon coarse sea salt (or to taste) –Optional*
black pepper, freshly ground, to taste
1 lemon, juiced (may substitute ½ lemon & ½ lime)
In a cast iron skillet, cook onions in olive oil over medium-high heat until they begin to brown. Lower the heat and allow to simmer slowly for 20 minutes.
Stir in brown sugar (or applesauce) and continue cooking for a few minutes.
When onions are tender and golden brown, stir in the chard and olives. Cook until chard is slightly wilted.
Stir in the capers and continue cooking until chard is completely wilted, about 3 minutes.
Season with black pepper and squeeze lemon (and lime if using) over the top.
* I don't always add any salt if the olives & capers are salty.
Amount Per Serving Calories: 118 | Total Fat: 9.2g | Cholesterol: 0mg
Swiss Chard, or "Chard" as it's commonly called, packs a huge nutritional punch. I add it to summer salads (peak time in the markets is summer time)

It is an excellent source of :
Vitamin A, Vitamin C, Vitamin E, Vitamin K, Vitamin B6, Vitamin B2
Folate, Thiamin, Sodium, Calcium, Magnesium, Iron, Manganese, Potassium
Phosphorus, Zinc & Copper
Swiss chard is a good source of fibre & protein too.