Looking for a quick appetizer that's yummy AND good for you ? These flavours combine to make one of
my favourite meatless apps. If I have the time to roast the red peppers, great ~ but otherwise the jar of roasted peppers is a real time-saver. Roasted Red Pepper Hummus is SO good!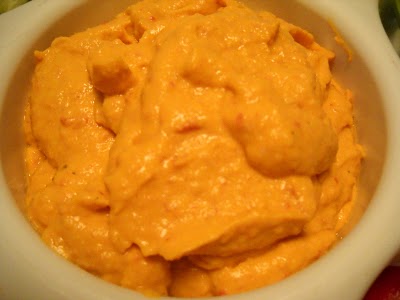 Sweet red peppers are a good source of Vitamin K, Thiamin, Riboflavin, Niacin, Potassium and Manganese, and a very good source of fiber, Vitamin A, Vitamin C, Vitamin E (Alpha Tocopherol), Vitamin B6 and Folate.
Add the peppers to Chickpeas, and enjoy increased fiber, more Vitamin B6 and Folate plus, a great source of Manganese, which, helps your body break down carbs, proteins and fats.
Red Pepper Hummus
2016-05-08 10:24:45
Ingredients
1 (15 ounce) can chickpeas (garbanzo beans), drained
1/2 cup crumbled feta cheese
1 (4 ounce) jar roasted red bell peppers, drained
2 tablespoons lemon juice
1 tablespoon chopped fresh parsley
1/2 teaspoon cayenne pepper
1/4 teaspoon salt
Optional
1 tsp tahini and/or 1 garlic clove, crushed + chopped finely
Instructions
Place the chickpeas, feta cheese, drained red peppers, lemon juice, parsley, cayenne pepper, and salt in the bowl of a food processor; blend until smooth.
Studio Botanica http://studiobotanica.com/
I LOVE adding either tahini and or garlic but that's the great thing about
hummus ~ make it your own. Black olives are another super addition to create another level of flavour.
ANY of the hummus dips are delicious with a mixed veggie platter and this Red Pepper Hummus is SO vibrant in the middle of this healthy platter! Ideal to munch and crunch on when friends drop by or anytime.
Check out the EASY bakcd Pita recipe below ~
Pita Chips n' Herbs
2016-05-08 10:26:38
Ingredients
4  whole wheat pita breads
½ cup  olive oil
1 clove garlic, crushed and  finely minced
½ teaspoon onion powder
¼ teaspoon red pepper flakes
¼ teaspoon dried thyme
¼ teaspoon dried basil
½ teaspoon coarse sea salt
Fresh ground black pepper
2 Tablespoons sesame seeds
Instructions
Heat oven to 350°.
Cut the pita breads in half and in half again. Cut each triangle in half and separate the pieces.
Arrange on a baking sheet with the inside of the bread facing up.
Combine the olive oil with the garlic, herbs, salt and black pepper to taste.
Brush the pita chips generously with the seasoned oil.
Sprinkle with sesame seeds. Bake until crisp, about 10-12 minutes.
Use two baking sheets or  bake them in batches.
You will want to watch them closely as they go from not quite done to "OVER-done"  very quickly.
Notes
You will want to watch them closely as they go from not quite done to "OVER-done" very quickly.
Studio Botanica http://studiobotanica.com/

What kind of hummus do you make? What is your favourite quickie veggie app?
Your comments are welcome. Tell us about your favourites!
Sign up for my seasonal newsletter and don't miss a recipe or herbal tidbit!
Let's talk!