I love to make this simple soup when it's time for a light but warming lunch or dinner! This recipe, is more of a guideline, really. Add whatever veggies you have on hand, as substitutions work just fine.
1 tsp Olive oil
4 leeks, diced
1 cup celery, diced, uncooked
1 cup carrots, diced, uncooked
1 cup peppers (red, yellow) uncooked
3 tsp garlic, minced
1 cup peas (fresh or frozen)
1 tsp Sea Salt (optional)
2 green onions,thinly sliced
2 l (64oz) vegetable broth
1 19 oz can Cannelini beans, drained + rinsed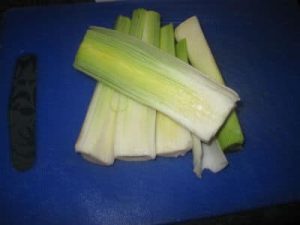 Heat oil in your favourite soup pot over medium heat. Add leeks, carrots, celery, 1 green onion and the salt.
Cook, stirring often, until vegetables begin to soften; 8-10 minutes.
Add the garlic and the red peppers, and cook for about 1 minute.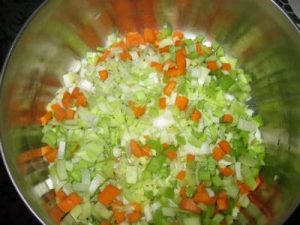 Add the broth; increase the heat to high and bring to a boil.
Turn the heat back to medium and add the beans, tomatoes and peas.
Cook for about 10 minutes.*
Yesterday, when I made this soup, I left out the beans and added a little chopped dandelion, chard & arugula.
These greens boost the nutritive value of the dish and make it a "cleansing soup"!
*If you decide to add greens to your soup, add them at about the 8 minute mark. Chop the greens into small pieces to make the soup easy to enjoy! Top with the 2nd green onion, sliced on the diagonal and a dollop of pesto for a great flavour 'punch'!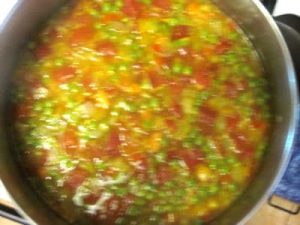 Enjoy!