Here's a quick n' easy way to add delicious flavour and healing power to your meals. As many of you know, I've been experimenting with adding a little heat here and there and am finding that I can tolerate more as time goes by. Why enjoy more heat? It increases circulation in the body. That's the quick answer. Increased circulation ensures nutrients reach destination all over our body, which is a healthy choice! 'Herbal vinegar with a kick' is delicious too!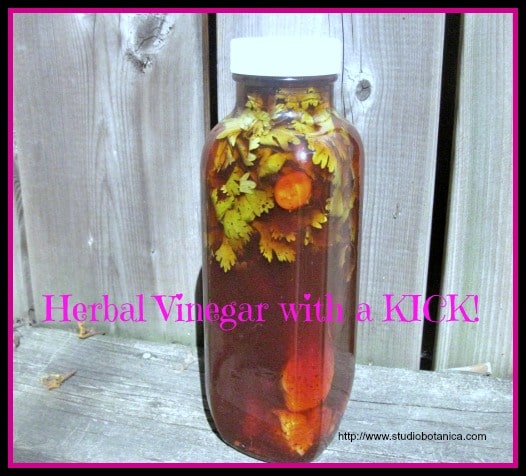 I have another batch on the go and can't wait to enjoy it again.
I normally make my infused vinegar with Apple Cider vinegar but this one with red wine vinegar is tasty. If you prefer other herbs (i.e. not a Cilantro fan!! – substitute flat-leaf parsley, basil, oregano or thyme ~ or any of your favourite herbs)
Crank up the heat!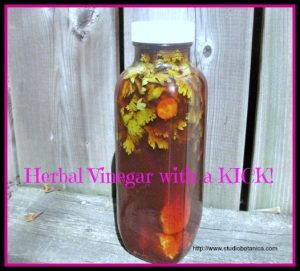 Cilantro-Garlic-Ginger-Hot Pepper Vinegar
2017-07-30 09:35:47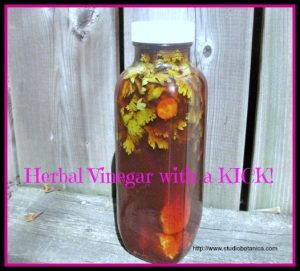 Improve your digestive system function and increase circulation in your body with this delicious infused vinegar
Ingredients
1/2 cup cilantro, loosely packed ~ or your favourite herb
3 quarter-size slices ginger root
1 small hot red pepper, fresh or dried
1 garlic clove, peeled
2 cups red wine vinegar
Instructions
Put the cilantro, ginger root, red pepper, and garlic in a steeping container.
Cover with the vinegar and attach the lid.
Set the container in a cool, dark place, shaking every day or two.
Notes
Taste after a week, then filter (or let it steep longer until the flavor is to your liking).
Pour into bottles, cap tightly and label.
Experiment. Add or subtract the 'heat'! Enjoy!
Adapted from Mountain Rose Herbs
Adapted from Mountain Rose Herbs
Studio Botanica http://studiobotanica.com/
Use this flavourful concoction as a condiment or as an addition to sauces, salsas or stir-fry dishes. It makes a delightful vinaigrette too.
Want to learn more about the benefits of Cilantro?
Here's a
post
all about that.
Don't like Cilantro? That's fine. Substitute your favourite herb!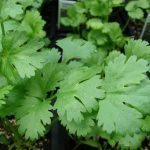 Thanks to Mountain Rose Herbs for this recipe.


I normally make my version with Apple Cider Vinegar but have a batch on the go at the moment with the RED WINE vinegar and it IS delicious!


Do YOU make infused herbal vinegar?
Please comment and share what you are doing!
Here's to better circulation and great flavour!
Green wishes, Carol
Save
Save
Save