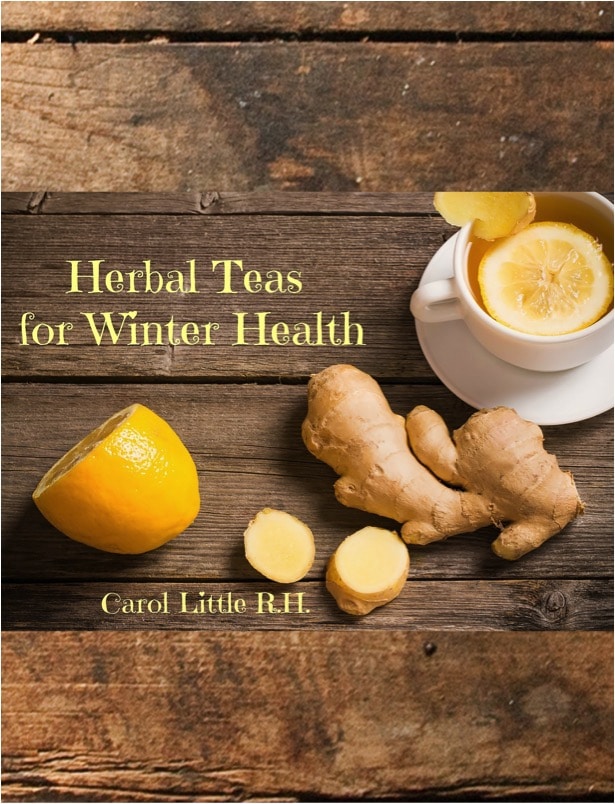 Sharing some resources for you.
Here's hoping that you try some of the classic recipes or healthy ideas in in this eBook!
Note: Some of the links below will be from affiliate sources, so you would pay the same and this website would receive a small thank you, for operating costs. ALL of the links below are to companies I use often and believe in, and love to support.
Interested in trying 'bulk herbs' tea blends but don't want to make them yourself?
I may be able to help. Email me your request –> carol@studiobotanica.com
If I cannot help, I will do my best to help you find someone who can!

Bulk Herbs
Whenever possible I purchase herbs from trusted growers and distributors, locally and online.
Many have become friends over many years. When it's a choice of making a tea or not.. and having time for a tea in a bag, pre-packaged, or not at all ~ there are many excellent companies I turn to, with tremendous results. You will find some ideas below.. Enjoy!
Healing Spirits Herb Farm and Botanical Sanctuary, Avoca, New York
Visit my friends Matthias + Andrea Reisen here.
I've known this wonderful couple since the 90s. In fact, Matthias assisted with my apprenticeship on Sage Mountain with Rosemary Gladstar. I've known Matt and Andrea from day one — in my practice.
Zack Woods Herb Farm, Hyde Park, Vermont
Visit Melanie + Jeff here.
Amazing couple. Known them since the start of their farm, if not before via the Women's Herbal Conference 20 years ago.
Mountain Rose Herbs
Grass roots west coast company. Top mail order company for many years with wide variety of offerings.
You can choose small or larger amounts. They also have a line of tea blends if you prefer, blended for you.
Here's the link.


Anna Lee Herbs
My friend Anna Hackman is the owner/grower at AnnaLee Herbs.
Here's here online shop info:
Here's an easy way to make a quick cup of tea with loose herbs!


Have a look here

Sometimes life is too busy to be believed. I hear you! Sometimes it's all we can do to rush out the door with tea bag in hand.. Here are some of my favourites from trusted companies:
Tea Bags
From Traditional Medicinals:
Fabulous seasonal sampler of 4 helpful high quality tea blends!
Traditional Medicinals Seasonal Tea Sampler Variety Pack, 16 Tea Bags
Especially for help with children and cold/flu:



Save
Traditional Medicinals Just for Kids Organic Cold Care Tea, 18 Tea Bags
One of my favourites ~ "Breathe Easy" multiple pack:


Traditional Medicinals Breathe Easy Tea, 16 Tea Bags (Pack of 6)

Traditional Medicinals Organic Nighty Night Valerian Tea, 16 Tea Bags
From Pukka:
Delicious GINGER tea – no caffeine!


Pukka Herbal Teas Three Ginger Caffeine Free, 20 Count

Pukka Organic Elderberry & Echinacea with Elderflower Tea — 20 Tea Bags

Pukka Organic Herbal Tea Lemon Ginger & Manuka Honey — 20 Tea Bags
Save
Save
Save
Save
Save
Save
Save
Save
Save
Save
Save
Save