Here's another wonderful warming herb which can raise immunity and nourish the body in so many ways. Ginger root can ~ at the same time, soothe our nerves AND energize us! I use it in herbal formulae to help move the medicine throughout the body faster (circulatory stimulant properties). Ginger also helps us to release toxins and can be both 'building' and detoxifying!
There are a few attributes that always come to mind when I think of this 'super star herb' :

Ginger root
Ginger is anti-nausea and calms motion 'sickness'
Ginger calms tummy irritation and aids digestion
Ginger is anti-inflammatory
Ginger is analgesic so it can help with pain relief
Antibacterial
Experience tells us that ginger tea daily can help to reduce sugar cravings. A therapeutic dose of 3-4 cups per day in the morning or later in the afternoon can truly make a difference. It's often called Nature's Ant-acid. I wrote about it here.
Ginger has so much to offer us — it's one of my favourite herbs.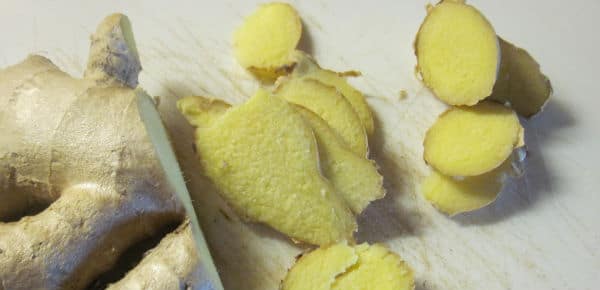 Ginger Syrup
I love to make this special healing syrup. Ginger medicine can treat everything from arthritis, to digestive distress and heart issues. It's easy to make and delightful to give AND receive!
Ginger syrup makes a welcome gift so make lots and make your friends smile!
Ginger Syrup
2016-09-04 08:50:01
Ingredients
11/2 cups pure water
1 cup raw honey
6 oz ginger root, sliced thin into 'coins'.
Instructions
Combine the honey and the water in a pot and bring to a simmer.
Add the ginger. Simmer uncovered for about 45 minutes.
Remove from the heat and strain the ginger out.
Allow to cool.
Pour into a clean jar or bottle.
Notes
Store in the fridge. Enjoy within 6 months
Studio Botanica http://studiobotanica.com/
Want to experiment with Ginger but don't have the time to make the syrup?
Nothing is easier than this quick Ginger tea… or Ginger infusion. It's soothing, helps with digestion,
raises immune function and well… there's more details about Ginger here:
EASY GINGER TEA!
This is SO easy. Either grate fresh ginger root as here: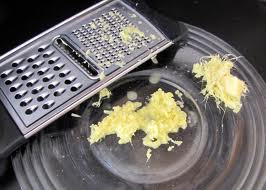 or slice ginger root into 'coins', pop into a cup and top with just boiled water.
I like to use a "Mason" (canning) jar with a lid. It makes it super easy.
Choose a cup with lid or use a glass jar with a lid to ensure that the healing steam stays 'with' the infusion which is better for YOU!
Add lemon for another flavour boost, or experiment. It's about nourishing yourself & your family.
Make a warm lemonade; add cayenne powder if you dare, plus a little honey
and grated ginger!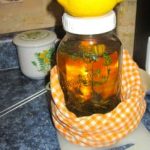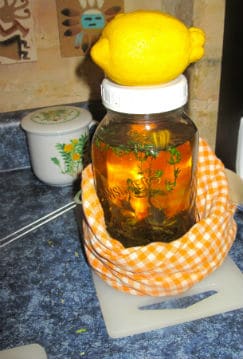 Here's an herbal infusion with Ginger, Thyme & lemon. Delicious and soothing for a sore throat.
I may have saved the best for last. It has been said that — if we catch a cold/flu with the right remedy at the very beginning and if we take enough of it and if we keep taking it for a couple of days after symptoms subside –> We can avert the cold/flu altogether! One such remedy is this "Jazzed up Ginger Juice " It does require a little more time but when we have all the ingredients on hand, it can be made and ready to use in minutes!
"Jazzed up Ginger Juice"
You will need 2 lbs( approximately) fresh ginger root. Juice it if you can or use a blender. I am blessed to have a VitaMix so I use that.
Here's the recipe:
4 oz fresh ginger juice
1 tablespoon raw honey
1/4 fresh lime (juice)
1/8 tsp cayenne powder
6 oz good quality room temperature water
Combine the ingredients in a glass canning jar with a good lid.
Mix well.
Sip throughout the day.
Repeat!
Want to learn more about HOW to increase you and your family's health?
Want to learn some DIY herbal remedies ?
Check out my ebook "Cold + Flu Season ~ Are YOU Ready?"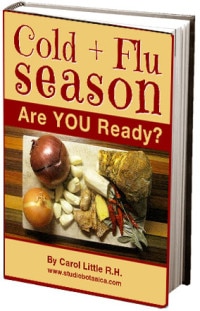 Here's to your health! How do you use Ginger?
Click below and join the DIY "blog hop" party ~ DIY GIFT GIVING IDEAS!


Save