Roasted Cauliflower is delicious! I am excited to share this one:
Exotic Roasted Cauliflower is over the top, one of my family's favourite ways to enjoy this versatile veggie. Roasting vegetables is by far the most common way I prepare vegetables during the cooler months (but heck.. this one is good all year 'round)  Roasted cauliflower? It's the best!
What is your pick for top spot as winner of  "Best" in the roasted veggie category?

Before we get to the recipe, it's of note that Cauliflower is SO good for us!
Cauliflower Highlights:
Anti-cancer
Anti-inflammatory
Detoxifying
High in Vitamins C + K
High in sulfur compounds which help improve digestion and avoid leaky gut issues
Excellent for eye health
Helps to balance hormones
Can assist with weight reduction (29 calories per cup + high fibre)
For more in depth info, there's lots online of course, but a reputable article
like this one from Dr. Axe shares more details.
If you have been visiting with me for a while, you may remember that I've been having a love affair with Garam Masala.  Make your own blend here.
I've been playing with this special herbal blend from the Indian sub-continent for the last few years. My family and friends applaud each dish and we can know that these ingredients add a number of healing attributes to our meals. This exotic roasted cauliflower was actually the first one I made, years ago. The problem? I never seemed to have a camera at the ready, and this roasted cauliflower was so delish, that it waited for nobody.. Try this roasted carrots dish ~ SO good!
Ok.. here we go..  In this case, the cauliflower is cored but left whole to bake and then sliced afterwards, so there's almost zero 'prep' time!
I've included some pics below ~ Got organized to take pics this time!!  I hope you'll try it. Please do leave a comment and let me know how you like it! Here's to healthy digestion and "good for you yummy meals!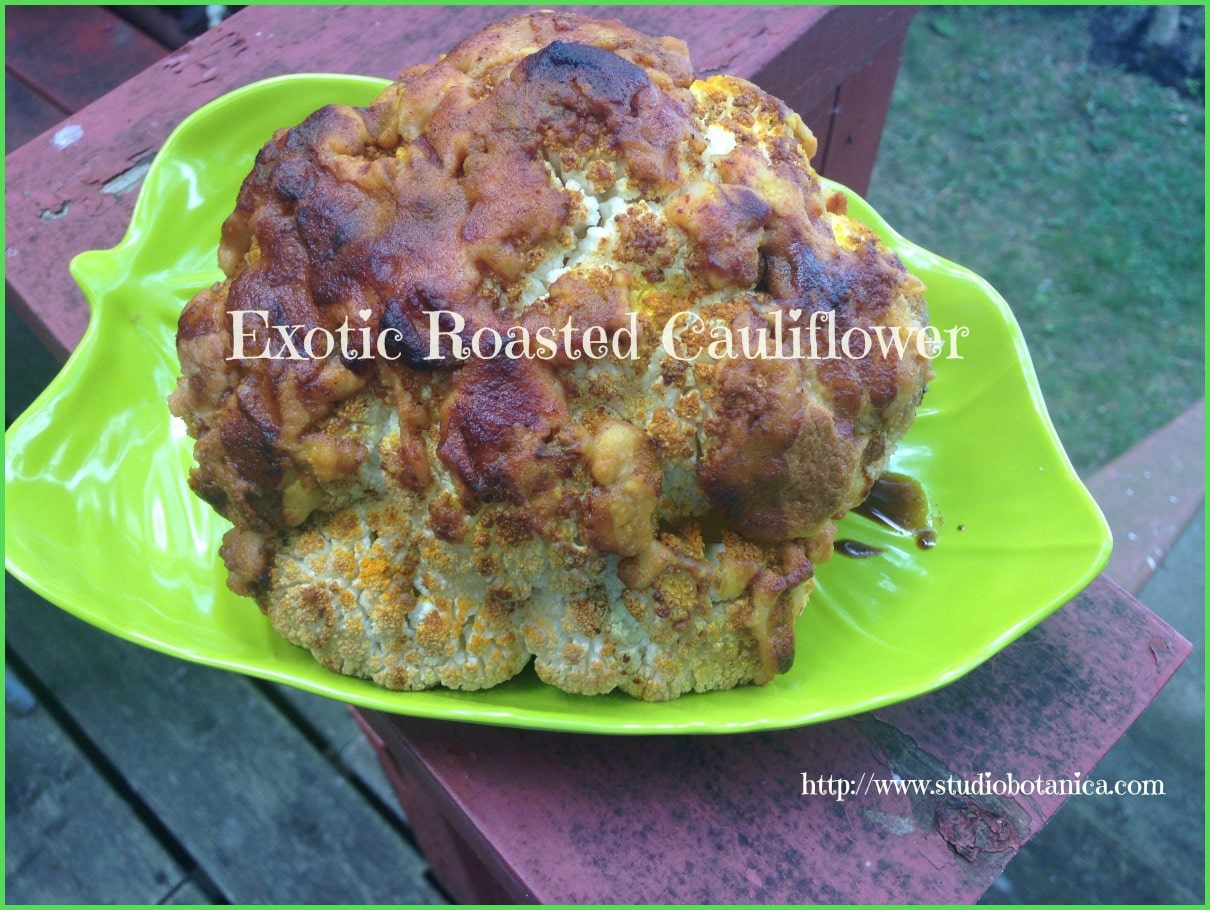 Exotic Roasted Cauliflower
2017-03-04 21:25:46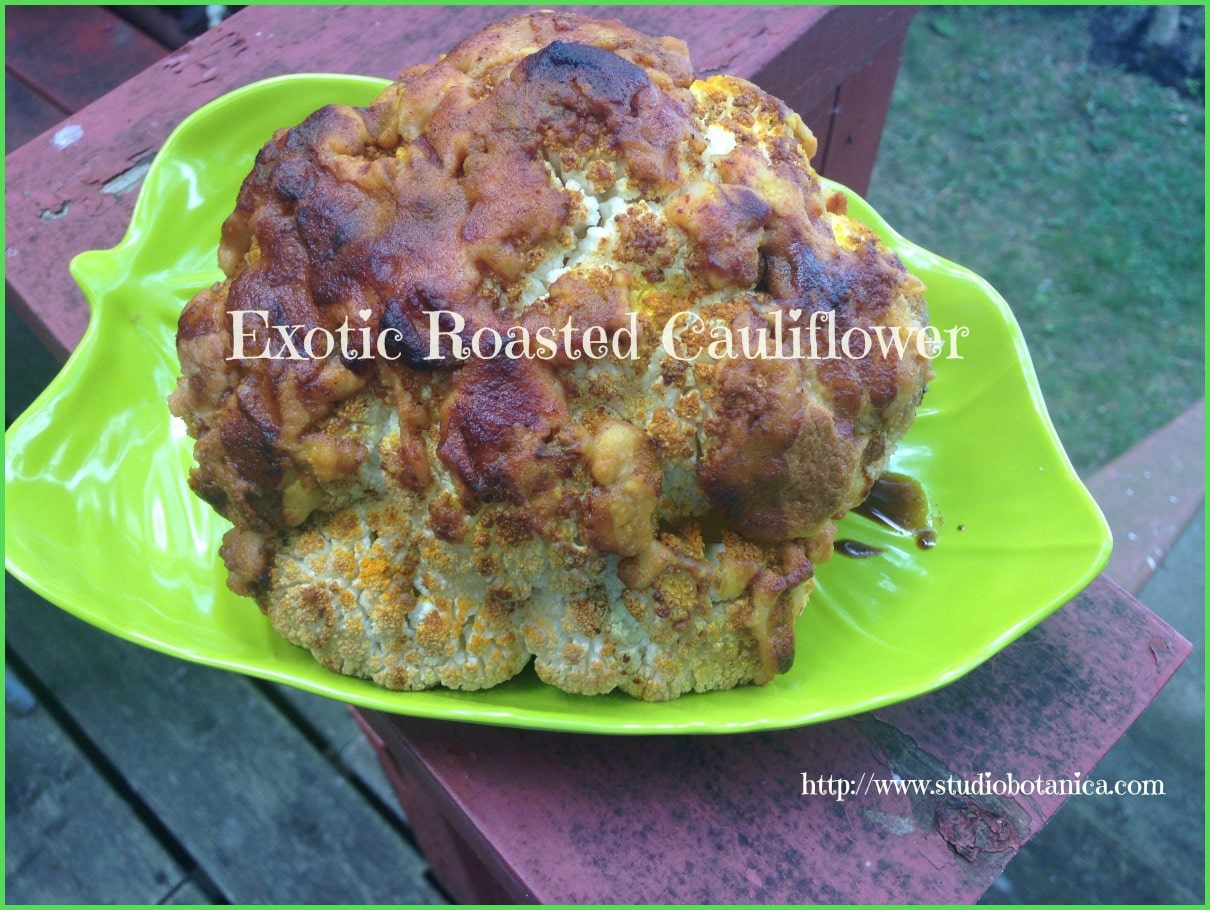 Ingredients
1 head of cauliflower (organic when possible)
2 - 3 tbsp coconut oil
1-2 tsp Garam Masala (depends on size of cauli)
1/4 tsp cinnamon
Ample grinds of Sea Salt + fresh ground Black Pepper (your taste)
Optional: 1/4 tsp Turmeric powder and/or any of your own fave herbs
Instructions
Preheat oven to 400°F
Trim the cauliflower of leaves and core.
In a shallow dish or bowl, slather the coconut oil over the entire head of cauliflower
Line a baking sheet or shallow dish with parchment paper
Mix the 'aromatics' in a separate bowl
Place the cauliflower 'upright' on the parchment paper
Use your fingers to sprinkle the mixture onto the cauliflower
Bake for 45 minutes or a little longer if larger head.
Test with a fork. It's ready if fork feels no resistance with a 'jab'!
Notes
You can choose to serve whole or sliced in the kitchen before presentation.
I've done both. Awe-factor bigger if presented 'whole' and sliced a table!
In any case, allow the cauliflower to sit for 5-10 minutes for best results.
Studio Botanica http://studiobotanica.com/
 I am not shy with the coconut oil and you shouldn't be either! So good for you and goes perfectly with the Garam Masala!  You can choose to melt the oil first. I don't bother. I just take a spoon and dig into my jar of coconut oil (it is fascinating to me that coconut oil is solid at less than 78 degrees F)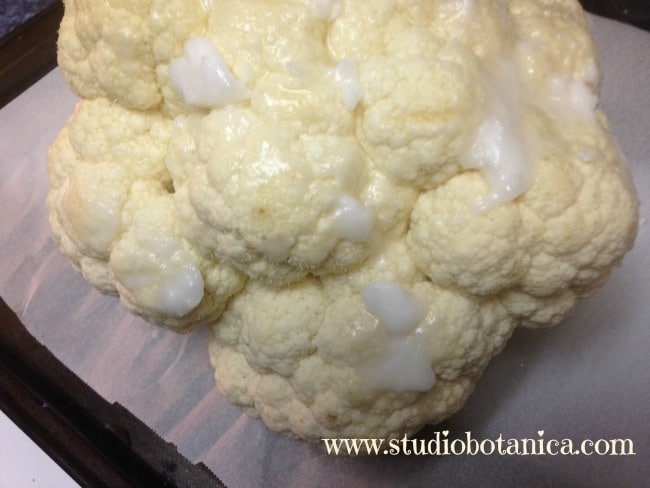 I've also experimented with roasting the cauliflower for 20 minutes without the herbs sprinkled over ~ instead of from the start. I have not found a difference. I do tend to check on the cauliflower at 1/2 way point. I have also added more Garam Masala and Cinnamon when in the mood to bump up the flavour!
Yes.. Let's play with our food!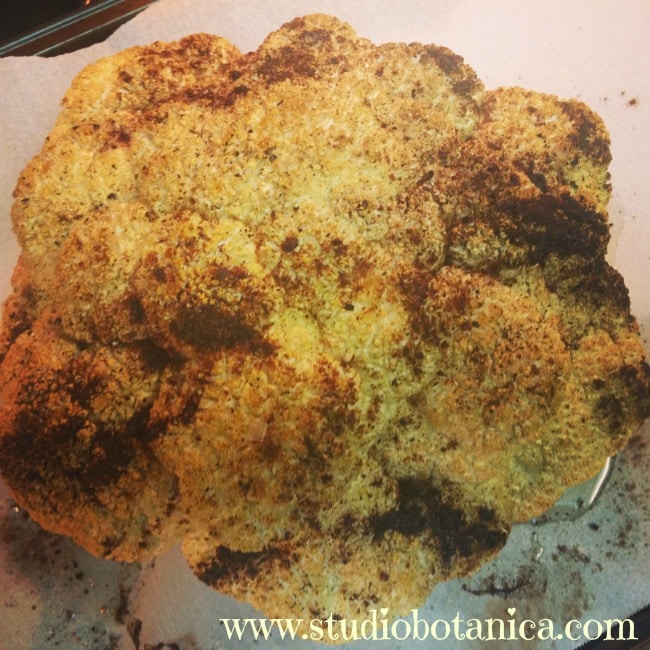 I'd really love to hear about your own adventures with herb and spice blends and your veggies! Please do share!

YUM!