It's no surprise really, that, with the 'climate change' alarm bells ringing ~ there's a change in what is growing when and where.. in the green world.  Ragweed, for example, is experiencing a larger growth area and a longer growing season. Oh NO ~ says you? If you are one of the many who experience (read "suffer" with) seasonal allergies, it may be of great benefit to make adjustments, NOW, to your daily regime in an effort to create a better summer for you and your family.**
Sharing some anti-allergy herb teas today with this in mind!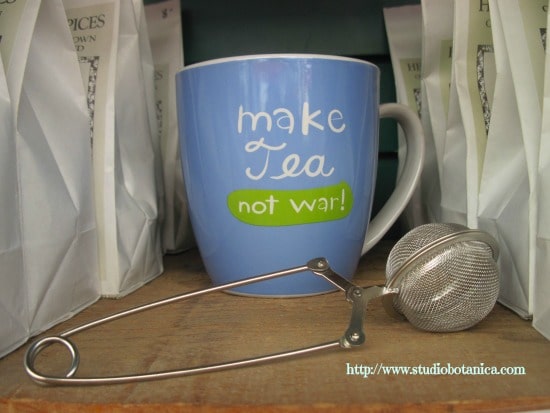 The key to using herbs for allergy relief is to start taking them early and then commit to constant enjoyment throughout the entire pollen season. Best idea? Start as soon as 3-4 weeks before allergy season in your area. My suggestion? Why not start to add these herbs into your day, now?
The anti-inflammatory, anti-allergy and anti-histamine properties of the herbs need a few days to build up levels in your blood and tissues in order for you to both avoid symptoms and get relief.
Since different herbs work in different ways, I suggest that you will obtain optimum benefit from using different herbs in varying combinations.
For an overview of the topic, check out this post: Allergies 101 
Today's post is about using anti-allergy herbal teas and yet there is more to the 'alternative' treatment of allergies.  This post "Five Great ideas to Relieve YOUR Allergies"  offers some supportive ideas.
**Ragweed?
1. Start early with homeopathic ragweed. Work with a practitioner.
2. or.. Use Goldenrod tincture. Read more here.
With so many options "out there",  I am sharing what I have found to work best, from my 20+ years of herbal practice and study. We can enjoy as a simple 'tea' or herbal infusion, or as a longer brew, called a "long infusion". Like any habit, getting organized can make all the difference. If you have an herb garden, some of these, which may need to be 'dried herbs' to start with, can then be enjoyed fresh as time goes on. Herbs are easy to grow in pots if you are short on space and time. Even a tiny plot (somewhat like my urban garden!) can create enough herbal medicine for you to grow anti-allergy herb tea ingredients!
Enjoy anti-allergy herb teas. 
The therapeutic dose is recommended for best results. In this case, that means 4 cups of herbal infusion daily.  Why not make a quart/liter of tea and sip throughout the day?
There are so many and this list is by no means –all there is..  Here are a few to get started:
Nettle, bilberry, lemon balm, peppermint (in fact, most mints) and turmeric. All these are anti-allergic, flavonoid rich herbs. The 'blends' will depend upon your own personal taste AND what you want to achieve with your tea.
Tip: Combine with orange or lemon peel for a refreshing cold tea!
Nettle is my 'go to' when anti-allergy herb teas are needed.
Nettle is ALWAYS a part of any 'protocol'.  She is that good!
Missy Nettle is an excellent anti-allergy herb and a natural anti-histamine.She reduces the ability of
the body to produce histamine. Histamine is a chemical produced by the antibodies in the body to fight against the allergens. Stinging nettle's green leaves fight against allergy symptoms like sneezing and runny nose, coughing + watery eyes. I've written more about missy Nettle here.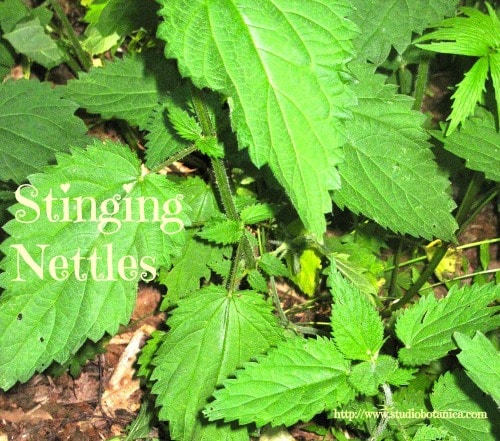 Bilberry
Excellent antioxidant, anti-inflammatory and included here because it's an excellent source of quercetin.
Quercetin can help stabilize the release of histamines from certain immune cells, which results in decreased symptoms like coughs, watery eyes, runny noses, hives, swollen lips or tongue, and indigestion.
I'll be writing about Bilberry Medicine in the next week or two. Stay tuned.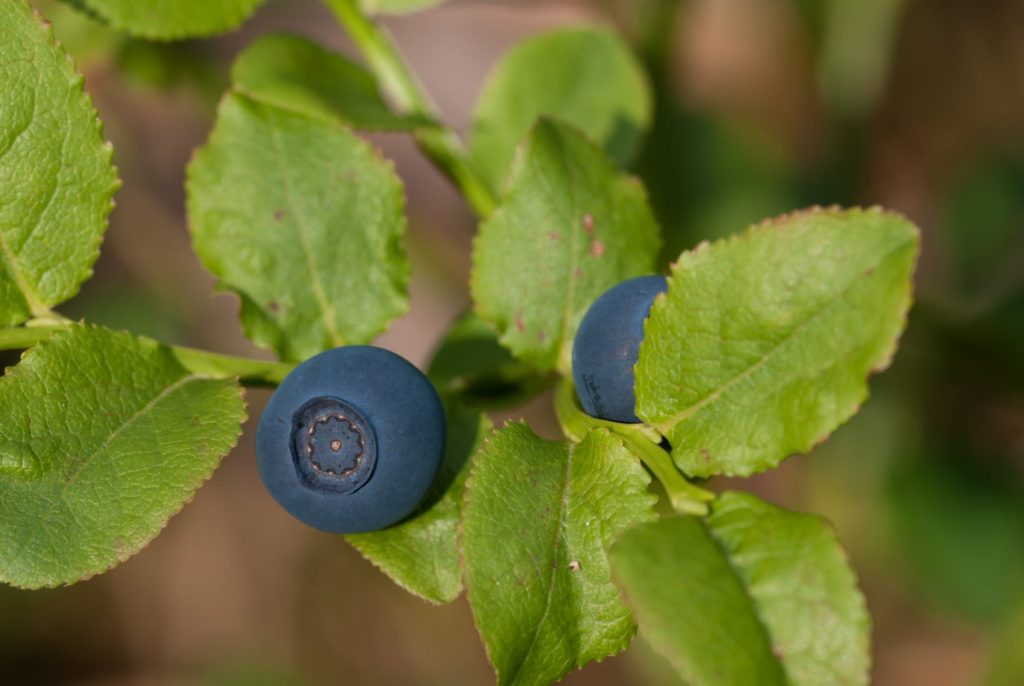 From WikiCommons *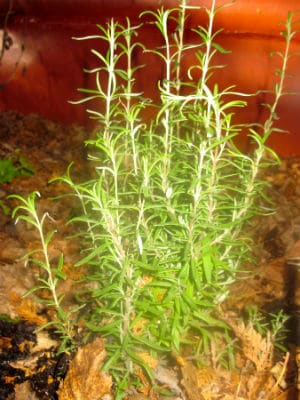 Rosemary
High in rosmarinic acid, rosemary can be effective because of its antioxidant properties.  This pungent, somewhat piney herb can improve upper respiratory help and alleviate 'wheezing'.
Rosemary on her own, can be an acquired taste. I like Rosemary tea, but it a bit too pungent for you, add in some mint or lemon balm!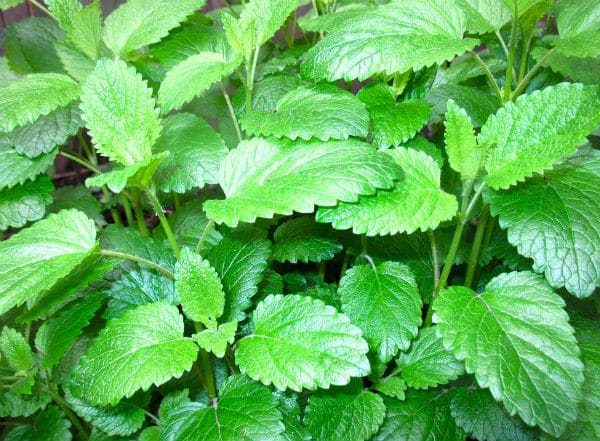 Lemon Balm
Highly antioxidant, anti-inflammatory, anti-viral, carminative. I like to include 'melissa', as she is easy to grow, helps us digest our food, makes us happy, and helps to keep us 'clear-headed' (imho)
Mints
The flavonoids in peppermint and other mints have been found to have a potent inhibitory effect on histamine from mast cells. Mint is particularly effective for allergic rhinitis, and has traditionally been used as an H2 antagonist.(i.e. a type of anti-histamine) There are SO many mints. For this purpose, my choices tend to be peppermint, wild mint, spearmint and sometimes a little apple or pineapple mint for an extra flavour kick.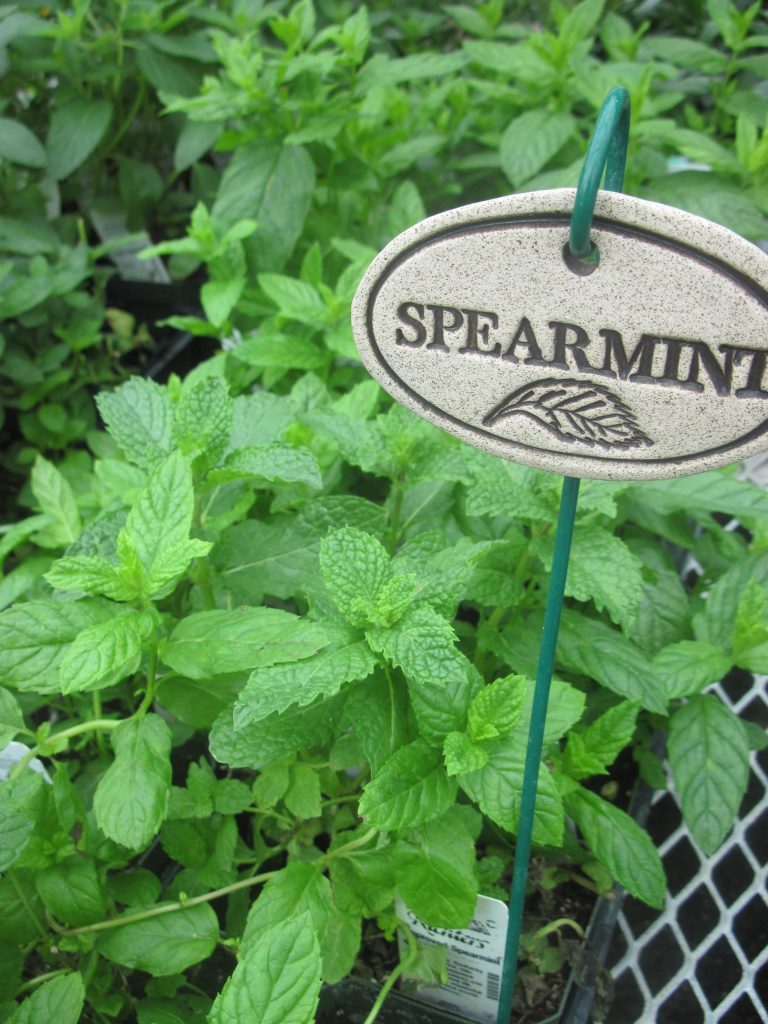 Turmeric:
Turmeric has powerful anti-inflammatory and anti-oxidant properties.  It is probably one of the most researched herbs on the planet, at the moment. Studies have found that it can inhibit mast cell activation. Read more here or here re mast cells.
As I mentioned above, there are MANY choices for anti-allergy herb teas. I think that the addition of digestion boosting and nervous system supportive herbs can be important in terms of rounding out a tea formula and making us feel better!  Some other ideas include: thyme, sage, Holy basil, hibiscus flowers and milky oats.
Soothing Anti-Allergy Teas:
Nettle Infusion:
Place nettle leaves in a glass canning jar (or French press or like this —>)
Bodum Brazil 8-Cup French Press Coffee Maker, 34-Ounce, Black

Fill the jar to the top with boiling water.
Immediately cover with lid.
Allow to steep for at least 10-15 minutes.
Strain and enjoy.
Some herbalists use a 'long infusion' method when wanting to extract maximum 'goodness' from
Nettle. In this case, we allow the infusion to steep for a minimum of 4 hours ~ or even overnight.
It is believed that with 'long infusing', Nettle releases the highest concentration of  minerals.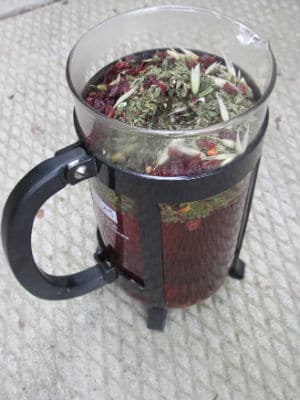 Nettle + Friends!
2 parts Nettle
1 part milky Oats
1 part Lemon Balm
1/2 part Spearmint
1/2 part Bilberries (or dried fruits you may have onhand)
   or 1/2 part Hibiscus flowers
Place the herbs in a glass canning jar (or French press or similar)
Fill the jar to the top with boiling water.
Immediately cover with lid.
Allow to steep for at least 10-15 minutes.
Strain and enjoy.
NOTE: Therapeutic dose = 3-4 cups daily. Therapeutic dose? The recommended amount to ingest to make a difference and have good success.
Turmeric Tea Recipe
1 cup coconut milk
1 cup water
1 tablespoon ghee
1 tablespoon honey
1 teaspoon turmeric (powder or grated root)
Warm coconut milk and water in a pot for 2 minutes.
Add the ghee, raw honey and turmeric, stirring occasionally,  for 2-3 minutes.
Pour into your favourite mug!
(Makes 1 large or 2 regular servings)
Drink 8 to 10 glasses of water a day to stay adequately hydrated. Dehydration makes allergy symptoms worsen.
Here's to having a delightful spring and summer ~ May your entire family breathe easy!
  These are my opinions only. You know I am not a medical doctor but a registered herbalist sharing my opinions based on my own education. Consult your practitioner, especially if you are taking any other medications which may inter-act.
Sources:
Nettle:
Study: Roschek, Bill, et al. "Nettle extract (Urtica dioica) affects key receptors and enzymes associated with allergic rhinitis." Phytotherapy research 23.7 (2009): 920-926.
Peppermint:
Study: Inoue, Toshio, et al. "Antiallergic effect of flavonoid glycosides obtained from Mentha piperita L." Biological and Pharmaceutical Bulletin 25.2 (2002): 256-259.
Turmeric:
Study: Lee, Jun Ho, et al. "Curcumin, a constituent of curry, suppresses IgE-mediated allergic response and mast cell activation at the level of Syk." Journal of Allergy and Clinical Immunology 121.5 (2008): 1225-1231.

Save
Save
Save
Save
Save
Save
Save
Save
Save
Save
Save
Save
Save
Save
Save
Save
Save
Save
Save
Save
Save
Save
Save