Elder medicine, as we affectionately call the various concoctions we make from the flowers and fruit of the Elder (Sambucus nigra/canadensis) is a wonderful herbal ally. The International Herb Association's HERB OF THE YEAR for 2013 is indeed a powerful medicine. It's more than just a 'winter medicine' but we'll start there!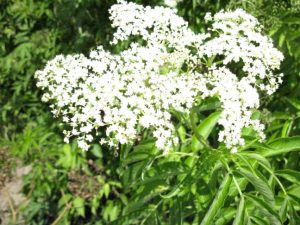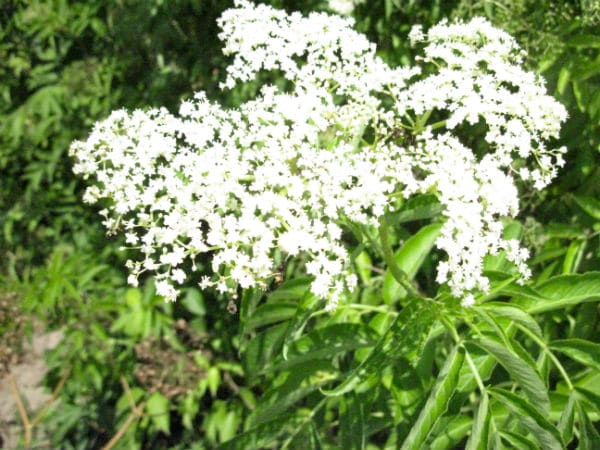 Elder is a "STAR PERFORMER" in the winter medicine chest.  Elder flower, in tea/infusion or tincture form is a "must have" during cough, cold and flu season.  At the first sign of sore throat, body chills, flu-like aches or fever symptoms, I reach for elder medicine and encourage you to do the same.
As an expectorant, elder flower can calm and soothe a cough. As a febrifuge, it has the ability to safely bring down very high fevers. As a lymphatic and immune stimulant, elder supports the immune system and studies indicate that elder medicine does indeed shorten the length of colds and flu. As a relaxing nervine, elderflower is calming to both children and adults. It has a long history of use in cases of anxiety, "frayed nerves" and excessive stress. Children respond well when given elderflower infusion at the first sign of a cold, flu or infection
During cold and flu season, I use dried elderflowers alone or in combination with other supportive herbs.
It's easy to make:
Elder flower Infusion
Put 2-3 teaspoons of herbs into an 8 oz cup. Add hot water.
Let it steep for 10 minutes or so. Strain. It's ready to drink.
Elderflower tincture combines very well with echinacea (whole plant) and boneset for cold and flu challenges. In the case of fevers, it combines well with blue vervain and yarrow. As this combination is not 'heating', it is excellent for high fevers.
Here's my post about Elder flower and cold/flu/fevers
Here's my post about Elderberry Medicine here and DIY Elderberry Syrup here
Note: LOTS of ELDER info is to be found in our 2013 Herb of the year book "ELDER"
Find it here!