To Decrease Inflammation with Turmeric, check out these ideas!
~ A spice we need to get to know. It's the rich yellowy mustard colour in curry powder* and is gaining popularity as one of THE heavy hitters of herbal medicine. A member of the 'ginger family', it is native to tropical South Asia. We CAN decrease inflammation with Turmeric!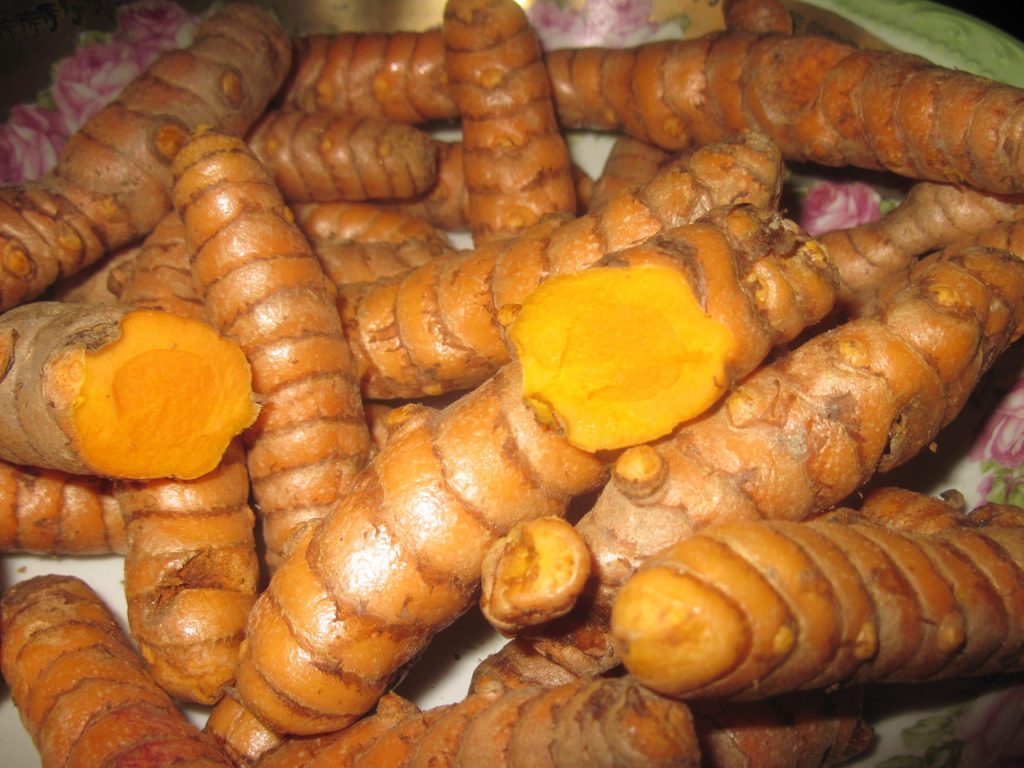 Turmeric owes its preventative powers and mounting fame around the world to "curcumin", the constituent which, after 1000s of studies, has been proven to protect and improve the health of literally every organ in the body. The ever-increasing list of ailments which respond favourably to 'curcumin' grows weekly and includes some of our biggest health concerns — Cancer, Diabetes, Heart Disease & Alzheimer's.
As a traditional herbal remedy, it has been used effectively for centuries to treat over 60 ailments — from chicken pox and colic to arthritis and indigestion.
THE KEY? It's an anti-oxidant with the added benefit of being anti-inflammatory. WHY is this combination so important?
Oxidation has been called 'a kind internal rust' which is caused by molecules which are missing an electron from their outer shell. This process of a molecule stealing an electron from other molecules creates 'oxidative stress' or 'oxidative damage' results in chronic low grade inflammation which in turn has been proven to trigger many diseases. Turmeric's strength as an anti-oxidant has been noticed by the world's 'mainstream medicine' and many studies are now singing the praises of it's effectiveness. Possibly the most interest in 'Curcumin' revolves around the ability to fight cancer on many levels against 22 different types of cancer.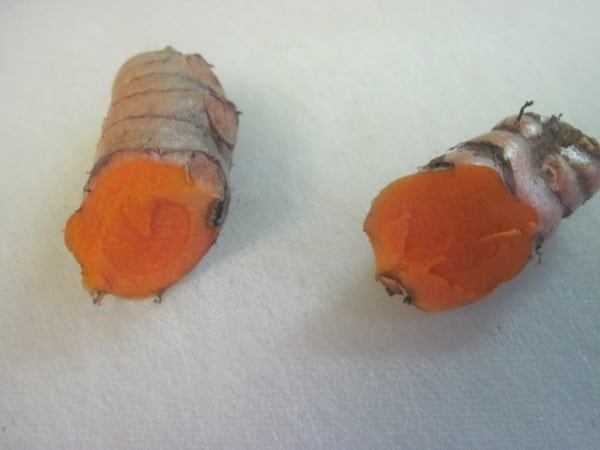 Turmeric (Curcuma Longa)
Turmeric may help to prevent and/or treat:
Acne
Allergies
Alzheimer's disease
Arthritis- osteo and rheumatoid
Asthma
Cancer
Cholesterol
Colitis
Cystic fibrosis
Depression
Diabetes (Type 2)
Digestive disorders
Eczema
Flatulence
Gout
Gum Disease
Heart Disease
Hypertension
Liver disease
Macular degeneration – age related
Parkinson's Disease
Psoriasis
Scleroderma
Stroke
Wounds
HOW TO BUY TURMERIC:
Turmeric is actually a rhizome (underground stem of a perennial plant) and very hard to grind. I have found it in Indian spice markets in Toronto in recent years but have rarely purchased it this way because even if I have found it, the quality has most often not been ideal for medicine making. It can be found in most supermarkets these days in powdered form. Buy it in small quantities as it will lose flavour within 5-6 months.

HOW TO USE TURMERIC every DAY:
Turmeric has a warm, peppery, slightly bitter flavour and a mild fragrance which reminds me of a gingery orange mix. It's harsh when eaten raw so always add it to your cooking or make sure it's slightly heated to enjoy its delicate flavour. I promise to share some of my favourite recipes next week but in the meantime, I hope you find these ideas helpful and easy to incorporate into your
life:
3 IMPORTANT things to do to increase ABSORPTION and
REDUCE INFLAMMATION with Turmeric :

1. Boost the absorption rate of turmeric by 2000% by combining with freshly ground black pepper.
2. Mix it with a healthy fat so that it can bypass the liver and extend it's benefits throughout the body.
3. Warm it up. It is more bio-available when heat is added.

Add to stir-fried vegetables
Add turmeric to sauteed onions. (this combination has been found to work to prevent cancer)
Add turmeric to scrambled eggs and other egg dishes
Add turmeric to any lentil or bean dishes.
Blend it in with a little melted butter to drizzle over veggies or blend with a little olive oil to add to Basmati rice or other grain dishes.
Add to stews, chili con carne or vegetarian chili.
Add to dips and salad dressings, vinaigrettes.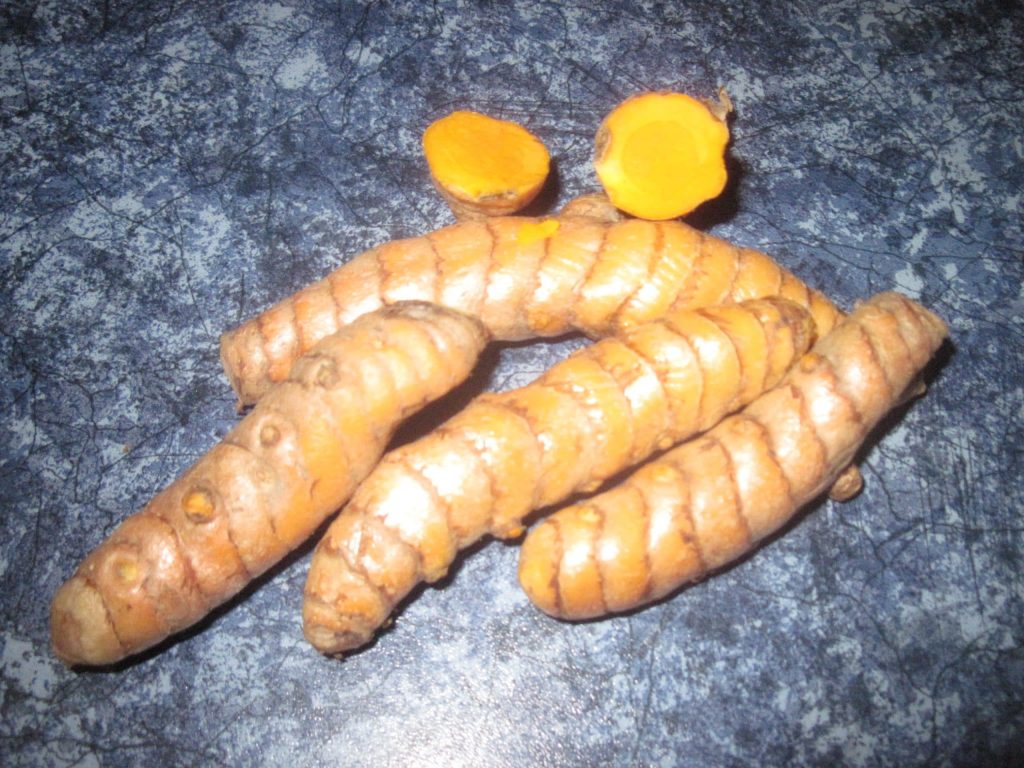 I am very excited about Turmeric. Article after article is being written and shared and hopefully the impact of the heightened interest in this POWER-PACKED easy to use, yummy herbal remedy will find it's way into many more kitchens as soon as possible.
*Curry powder is a combination of spices. The spices vary from region to region, town to town, family to family in India and other parts of Asia. Curry powder normally includes black pepper, cumin, coriander, fenugreek, and differing amounts of turmeric. Curry powder should NOT be thought to be a substitute for Turmeric. Some curry mixtures use very little Turmeric.
Best choice? Good quality FRESH or Organic powdered turmeric…often.
BEAT INFLAMMATION ~ Choose smart food combinations. Use your kitchen pharmacy.
More here.