There are countless ideas for celebrating 'Aphrodite' and the festival of St. Valentine.  Many foods and herbs have a reputation for enhancing libido and setting a romantic mood!
More on that later ~ I can't wait to share these yummy lavender infused brownies with you! This decadent snack or dessert is sure to tease a playful mood. Thanks to fellow herbalist John Redden, for the inspiration!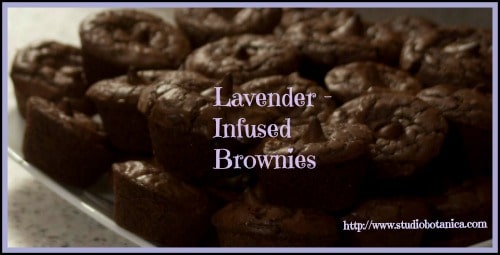 We can infuse herbs into water to make tea, or tisane as some call it. We can soak in vinegars to make tasty flavoured vinegars. We can infuse in different alcohols to make tinctures and liqueurs. Honey is a favourite. Lavender in honey recipe here
I love to make a refreshing lavender lemonade in warm weather, recipe here.
Why not infuse in butter? That is just what this recipe is all about. Grass-fed unsalted butter infused with lavender and popped into a brownie recipe!
I thought I'd use the one right off the Fry's Cocoa container ~ and change it up a bit for a healthier version.  The idea of the '2 bite brownie' is perfect for me. I like to savour these and 2 bites is perfect. (no pun intended, I am a 'savoury' as opposed to a 'sweets' fanatic)
Here's the recipe:
Lavender Infused Brownies
2015-02-13 14:17:39
Lavender marries Cocoa and lives happily ever after!
Ingredients
11/3 cups all purpose flour (I used Bob's Mill GF flour mixture)
1 tsp baking powder
1/2 tsp sea salt
1 cup grass fed unsalted butter
3 tsp lavender flowers (dried)
1 cup cocoa powder
2 cups organic sugar ( I used 1 cup of coconut sugar)
4 eggs (I used 3 farm fresh eggs)
1.5 tsp vanilla (I used my favourite Mexican vanilla)
Optional 1 cup chopped nuts - I have omitted the nuts.
Instructions
Pre-heat oven to 350 F
Either line bottom and sides of 8x8 baking pan with parchment or
Grease small muffin tins with coconut oil or a little butter
Combine the flour, baking powder and salt in a small bowl and set aside
Melt the butter in a small pot over very low heat.
When melted, add the lavender flowers. Stir gently to cover all flowers.
On very low heat, allow the flowers to impart their flavour into the butter.
After about 8 minutes, remove the pot from the heat. Strain the butter into a medium sized bowl.
Stir in the cocoa. Blend in the sugar, eggs and vanilla.
Add the dry ingredients (and nuts if you decide to use)
Blend all together and spoon into the muffin tins (or the 8x8 pan)
Bake in the oven for 20 minutes for the small bites (or 30-35 for larger pan)
Notes
Suggest allowing to completely cool before removing from the small muffin tins.
I put mine in the fridge after cooled to room temperature to ensure that they came out easily.
The idea of infusing melted butter ~ why not try ginger?
Adapted from from The FRY Cocoa tin
Adapted from from The FRY Cocoa tin
Studio Botanica http://studiobotanica.com/
We are ONLY limited by our imagination! 
Thanks again to John for his inspiration. 
John has an herbal practice in Toronto. He owns Viriditas Herbal Products.