There are countless ideas for celebrating 'Aphrodite' and the festival of St. Valentine.  Many foods and herbs have a reputation for enhancing libido and setting a romantic mood!
More on that later ~ I can't wait to share these yummy lavender infused brownies with you! This decadent snack or dessert is sure to tease a playful mood. Thanks to fellow herbalist John Redden, for the inspiration!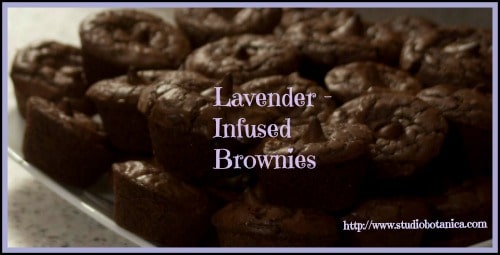 We can infuse herbs into water to make tea, or tisane as some call it. We can soak in vinegars to make tasty flavoured vinegars. We can infuse in different alcohols to make tinctures and liqueurs. Honey is a favourite. Lavender in honey recipe here
I love to make a refreshing lavender lemonade in warm weather, recipe here.
Why not infuse in butter? That is just what this recipe is all about. Grass-fed unsalted butter infused with lavender and popped into a brownie recipe!
I thought I'd use the one right off the Fry's Cocoa container ~ and change it up a bit for a healthier version.  The idea of the '2 bite brownie' is perfect for me. I like to savour these and 2 bites is perfect. (no pun intended, I am a 'savoury' as opposed to a 'sweets' fanatic)
Here's the recipe:
2015-02-13 14:17:39
Lavender
marries Cocoa and lives happily ever after!
We are ONLY limited by our imagination! 
Thanks again to John for his inspiration. 
John has an herbal practice in Toronto. He owns Viriditas Herbal Products.