Cilantro? You either LOVE it or you don't! It's not one of those gentle herbs on the sidelines that everyone likes. If you're in the "fan of cilantro" category, you may be interested to know that it is a powerful herbal ally. If you're not fond of cilantro, you may want to find ways to 'sneak' it into your meals; it's of great benefit! Cilantro pesto is super way to preserve and have on hand all year long. Go here for 2 of my favourite versions!
Cilantro or Coriander?
Both the greens and the seeds of coriander(Coriandrum sativum), but these days, the fragrant leafy green above-ground parts are referred to as "cilantro herb",  while the nutty seeds are "coriander spice". Both offer many unique healing attributes.
Here are 10 highlights of the many health benefits of Cilantro:
Nutritive – Good source of dietary fiber, iron, magnesium; rich source of flavonoids and phytonutrients. Excellent antioxidant.
Digestive aid- helps to prevent flatulence and settle queasy stomach, soothes nausea.  Helps the digestive tract to produce digesive enzymes, as well as more digestive juices. Stimulates digestion also through peristaltic action
Anti-inflammatory – may alleviate inflammatory conditions like arthritis. Reduces minor swelling.
Chelation agent** – removes toxicity; heavy metals from the body
Helps to promote healthy liver function. Lowers the LDL ('bad cholesterol') and supports the HDL ('good cholesterol')
Anti-bacterial properties shown to be effective against Salmonella bacteria. Helps to relieve diarrhea if caused by fungal or microbial infections.
Helps with insulin secretion and regulates blood sugar.
Contains immune-boosting properties
Acts as an expectorant
Stimulates the endocrine glands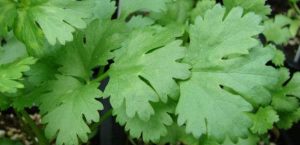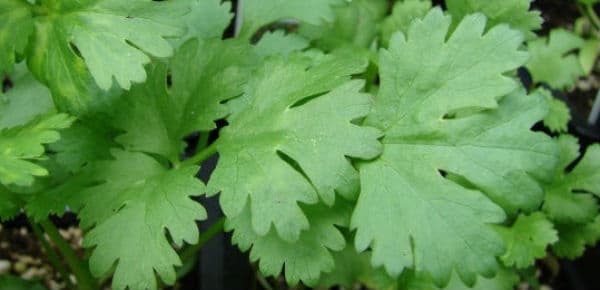 Cilantro has also been shown to help with hormonal mood swings pre-menses AND is used to relax cramping during menses. Cilantro's anti-bacterial action appears to protect against painful urinary tract infections. It acts as a natural antiseptic and anti-fungal agent for skin disorders like fungal infections and eczema. Cilantro has an affinity for the eyes. It can help to ease conjunctivitis (compress) as well as  'age-related' eye issues. Cilantro is known to have the ability to clear up recurring infections, both viral and bacterial especially when eaten with omega-3 enriched foods such as nuts.
** Cilantro is possibly best revered in herbal communities for its unique ability to act as a powerful natural cleansing agent. Cilantro has been effectively used to help to allow the body to release heavy metals(e.g. mercury, lead, aluminum) and other toxins from the body; literally binding to these substances and removing them from blood, organs and tissue, which eventually exit the body through elimination channels.  For many years, "chelation therapy" has been an option amongst alternative health practitioners using EDTA to remove these heavy metal excesses. Cilantro offers a way to enjoy a highly nutritive herb AND cleansing the body while enjoying your meals.
I remember a 'visual' from years ago in 'herb school'. Imagine Cilantro as a cartoon character in the body who reaches out a hand to an 'unhappy heavy metal molecule'. They then go skipping merrily off down a blood vessel and eventually right out of the body!
This is known as chelation. Much has been written about Cilantro possibly being one of the very best chelation agents in nature, especially for those who have been exposed to high levels of mercury.
People dealing with excess mercury have commented that their symptoms have reduced after an extended period of regular consumption of large amounts of Cilantro. The issue of "mercury excess" may be due to an over-consumption of mercury-tainted fish or the result of mercury in metal dental fillings.
James A. Duke, Ph.D., a former botanist at the U.S. Department of Agriculture, and author of The CRC Handbook of Medicinal Herbs, states that cilantro has been shown to settle the stomach. He recommends drinking a cup of the tea made from a handful of the leaves, when experiencing any form of stomach discomfort. This is an easy remedy, especially if you have Cilantro within reach in your garden.
Cilantro is one of the easiest herbs to grow from seed if you have a sunny spot for it. It likes to be harvested regularly, as do many herbs (lemon balm, mints, parsley, basil). These herbs all benefit from being snipped often, which encourages bushy full growth. In Toronto, to ensure a summer-long supply, I sow both Cilantro and Dill seeds throughout the season. The hot summer days in July & August cause the plants to 'bolt' which brings them to flower quickly and they then tend towards 'leggy'. It's easy to sew the seeds every few weeks. The seeds? well Coriander seeds grow Cilantro; same plant after all!!
Whether you can grow Cilantro or need to purchase it from your local farmers market or grocery store, you will benefit from adding it to your life!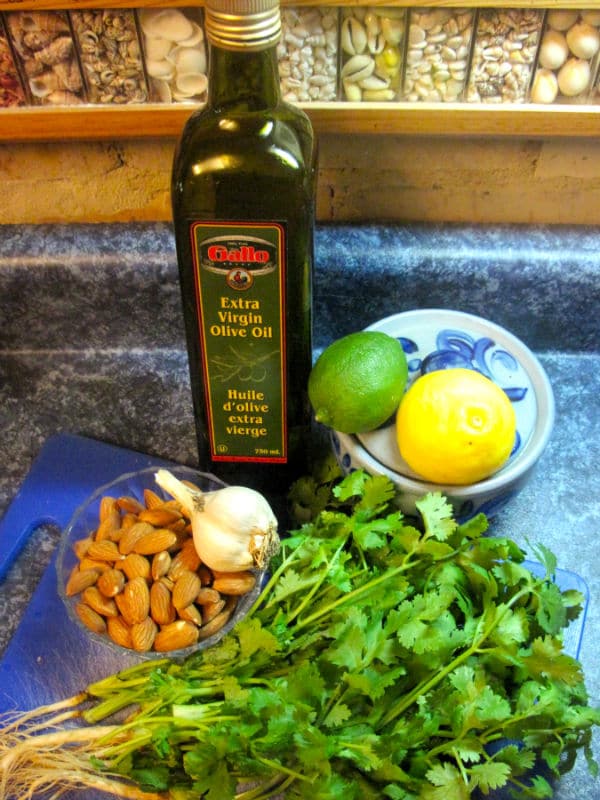 It can be used as an edible garnish, of course but it can be finely minced and sprinkled onto  many dishes. I enjoy it with fish, eggs, vegetables, grains or in fresh salsas. My favourite way to use Cilanto easily often? Cilantro Pesto, which I make when I have the time and then freeze in ice cube trays. Then it's EASY to add to any dishes for some extra nutrition and flavour! Check out some recipes here!
Save