I came across some notes from a class from a few years back, by Michael Tierra, well-respected west coast herbalist, and was reminded of a remedy I used to make and a herbal helper I've not consulted in a while. This is a great time to make this concoction featuring "ANISE" to have on hand as a part of your cold + flu season 'winter medicine chest' I hope you enjoy it.
The essential oil "anethole" is the key to this seed's healing powers.

Anise (Pimpinella Anisum) also called Aniseed Highlights:
Anti-septic
Anti-spasmodic
Carminative
Digestive
Expectorant
Stomachic
Tonic
Anise preparations can be very helpful in cases of asthma and bronchitis and good for coughs.
Renowned as a carminative, soothing digestive disorders such as bloating and flatulence, indigestion and nausea. Helpful too for colicky stomach pain for adults and children alike. See *glossary* for terms.
The tea made from the seeds can help nursing mothers to promote breast-milk production. Anise seed tea, cooled to room temperature can be very helpful in relieving running noses in children including infants.
E

xcellent source of minerals: essential B-complex vitamins notably vitamin B-6, which helps increase GABA neuro-chemical levels in the brain.
Good source of calcium, copper, manganese, magnesium, potassium and zinc.
Good source of Vitamins A + C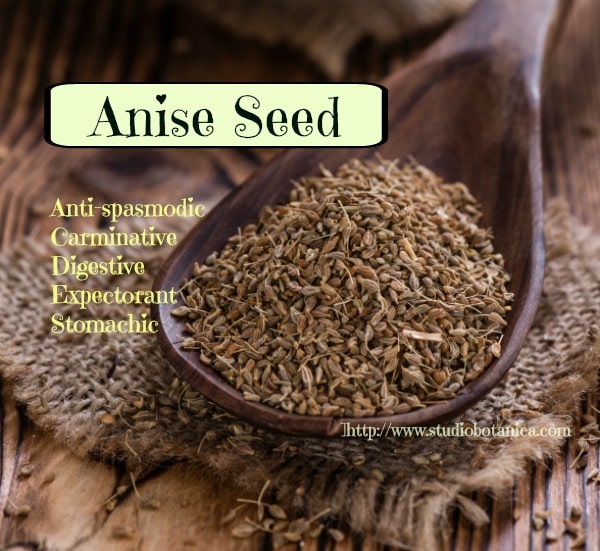 Anise StoveTop Soother
2016-12-31 10:02:20
Shared in a class by Michael Tierra ~ International Herb Symposium
Ingredients
1 part black pepper
1 part ginger root
2 parts anise seeds
Instructions
Powder (or grind herbs in a coffee grinder or similar)
Add to warmed honey to make a type of oxymel, in a small pot on the stove.
Remember to use low heat to bring the ingredients together but not 'cook'.
Remove from the stove as soon as mixed together and warm.
Store in a glass jar.
Notes
Take 1/2 tsp 2x daily to soothe coughs and colds and dispel mucus
This is more of a guideline. I've used ginger, grated instead of powdered (as I rarely have powdered ginger on hand.)
I've used a coffee/spice grinder or a mortar/pestle..
You are looking for a syrupy consistency.
Too little honey = a paste but this is also very effective.
Add more honey to create a runny aromatic infused honey!
Studio Botanica http://studiobotanica.com/
Do you suffer from a cold or a cough or have indigestion?

Make a simple tea with ANISE seeds and feel better!
The seeds have a light but distinctive licorice flavour.
NOT to be confused with:
Star anise (Illicium verum) is a spicy fruit, obtained from evergreen tree native to South-West China. Star-anise tree bears star-shaped fruits which turn rust-red color when ripen. Tastes like anise seed.

Culinary Ideas:
We can use these aromatic seeds to add healing powers to biscuits, breads, soups and sauces!
Highlight the flavour by gently toasting the seeds. Whole seeds or freshly ground powder can be added to meals at the end of cooking time to limit the evaporation of essential volatile oils.
You may have tasted Anise in famous liqueurs such as Pernod, Pastis or Anisette.

Save
Save
Save
Save
Save
Save
Save
Save
Save
Save
Save
Save
Save
Save
Save
Save
Save
Save