5 EASY DIY ideas for you + your family
How are you feeling? I don't know about you, but with the  'busy-ness' of life these days, whenever I am out in the world, there are people sneezing and hacking at ever turn! I find I am constantly reaching for one of my 'on-the-go' immune boosting remedies to keep myself and family members feeling well. After 20 years in herbal practice, I've pulled together some very tried and true remedies that work. Some take more preparation 'time' than others. Here are some QUICK to make DIY ideass for boosting immunity in minutes! Add one or all to your day and be able to kick that virus to the curb before it get hold of you!
Possibly the easiest quick helping concoction is this classic combination of Ginger with lemon and honey!
1. Honey-Lemon-Ginger – The most basic of basic! Boil some water. Add the water to a mug which contains 1-2 tsp Honey, 1-2 tsp lemon juice and 2-3 slices of fresh ginger root. Stir. Drink while still warm. (optional add 2-3 sprigs of fresh thyme and/or crushed or chopped clove of garlic.
Ginger is a delightful herb to know — especially at this time of year. It's packed with healing attributes for boosting immunity! Here's another favourite  
2. Jazzed UP Ginger Juice! It's easy to make with ingredients you may have on hand already in your kitchen! It's got a kick and it is SO effective. As with all of these ideas.. Get on it right away and keep drinking!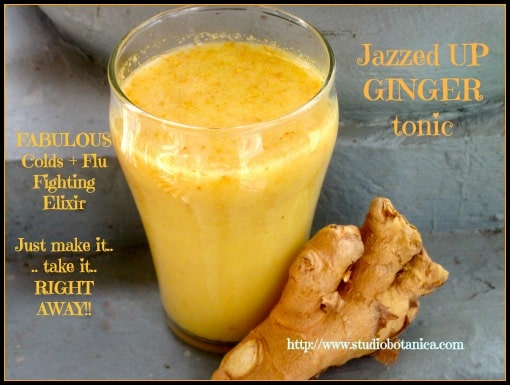 3. EASY to make and my version of a quickie "shooter" for immune boost magic!
1/2 cup apple cider vinegar (raw is best)
1/2 cup lemon juice (fresh squeezed if possible)
1/2 cup honey (raw + local is best)
4 cloves garlic, crushed or pressed
1 smidge of cayenne powder (pinch or two or more– depending upon your tolerance !)
For complete instructions, just head over to this post and toss it all into a blender or a simple glass jar!
4. Immune Boost Vinaigrette
I always think about adding more 'power' to my foods in anticipation of the cold and flu season, which is here!! It's a quick project and herb-infused vinegars are truly 'functional foods' in that they taste great and pack a punch of powerful herbal healing attributes which help to keep us feeling great!
Here's a template for infused vinegar that can evolve into a vinaigrette or be added to soups, stews, sauces and even a morning 'sip' for good measure!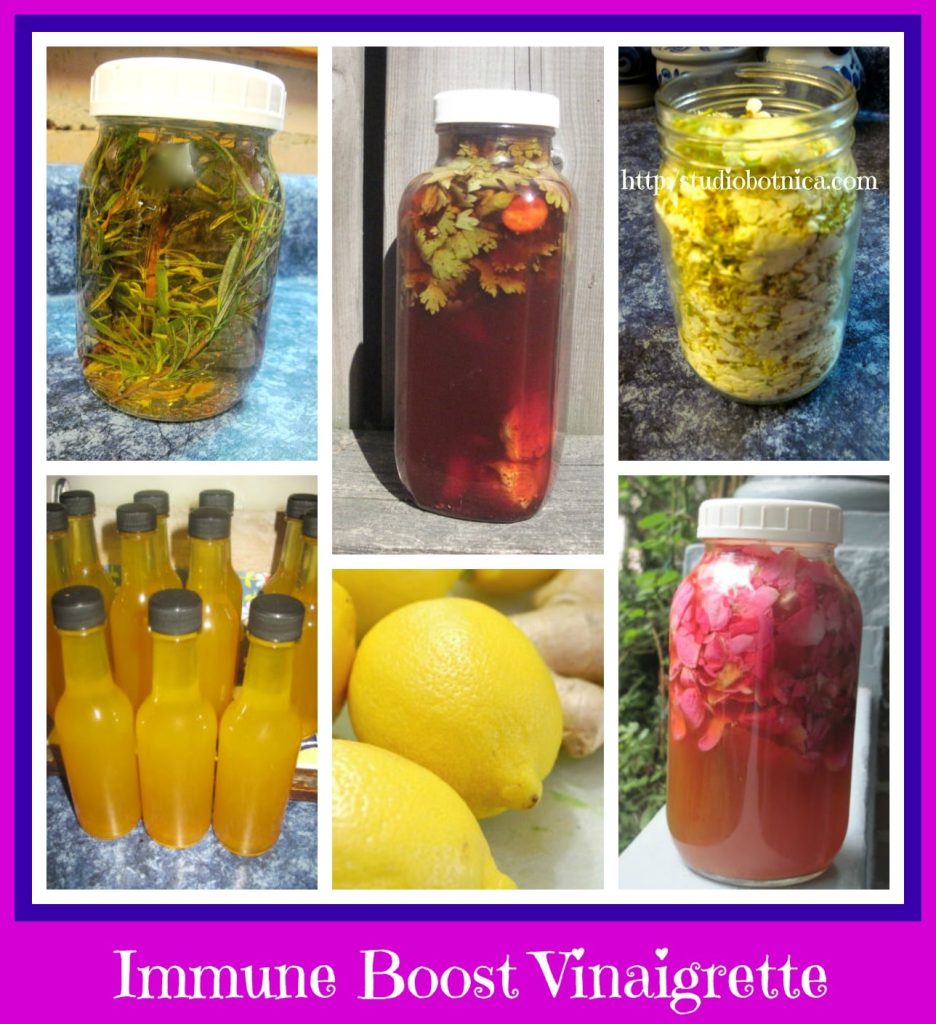 When all around us are hacking and coughing and basically 'passing around the virus' ~ it's difficult to keep up with all that hand-washing! This little remedy was a best seller back in my days of the herb shop, Studio Botanica.. and I still make it for my own use. This one makes a thoughtful gift too, for a family who are needing support. It definitely changes the 'energy' in your room. I usually use in the bedroom but a little spritz wherever your family spends a lot of time, can also be helpful.
5. Boosting Immunity 'Room Spritz'
10 drops eucalyptus (eucalyptus globulus)—antibacterial, antiviral
8 drops orange (citrus sinensis)—antiseptic
3 drops lavender (lavandula spp) – anti-bacterial, antioxidant, calmng
3 drops rosemary (rosmarinus officinalis)–anti-bacterial, antioxidant
2 drops tea tree (melaleuca alternifolia)—antimicrobial, bactericide, anti-fungal
Combine the essential oils with 4 ounces of pure water and 1 teaspoon of vodka.
Shake well and spray in room to support and enliven the air!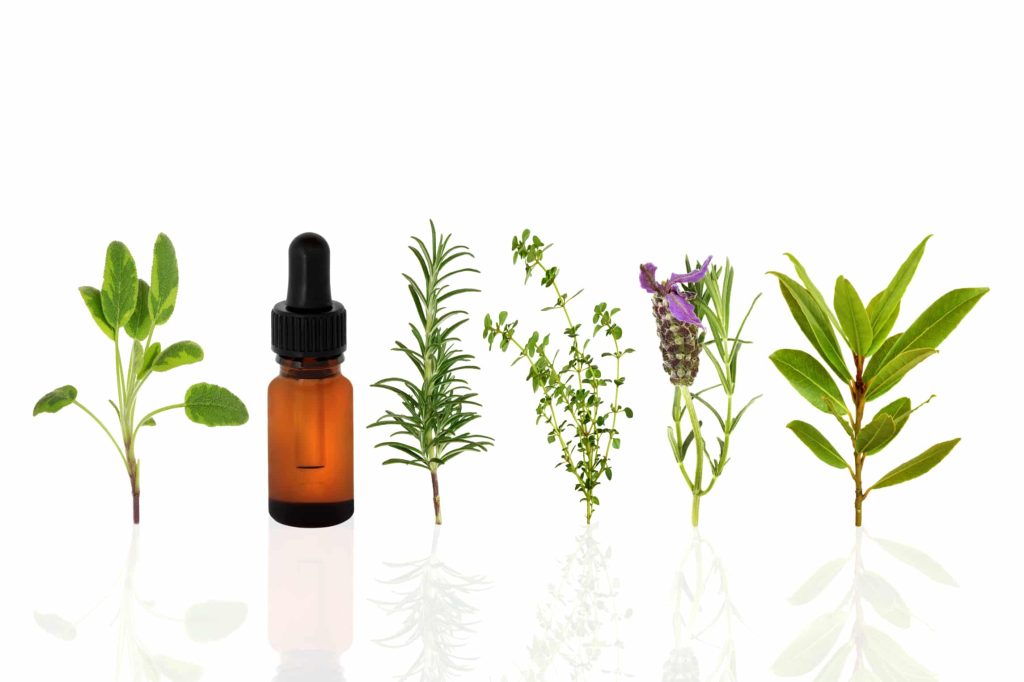 So..there's more to boosting immunity of course, but we can help ourselves by using any or all of these quick ~ easy to make list of 5 'make in minutes' projects!
Have you had a chance to learn more about winter health via my 2 ebooks?
They are packed with good solid ideas for you and your family to make and enjoy all year long but especially powerful during the colder months when that pesky cold and those flu viruses abound!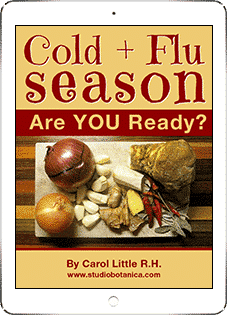 Take a peek at "Cold + Flu Season ~ Are YOU Ready?"  here.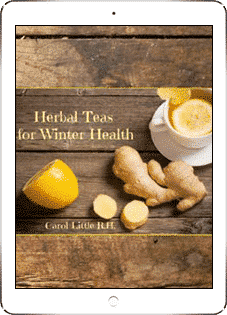 For more info and for a quick peek at "HERBAL Teas for Winter Health" click here.    
Here's to a delightful fun-filled winter season ~ feeling well + happy !
                                               Green Blessings,   Carol