It's the perfect time to think about growing some herbs!
Why not grow your own herbal tea garden?
You may know that I'm rather a fanatic when it comes to herbs. They are my passion, after all. They are SO easy to grow and enjoy. Whether you have a large garden, a tiny urban space as I do, or simply a sunny spot for a few pots, this little project can be so rewarding! From farmhouse to apartment dweller ~ we all can enjoy a few extra delights this summer with the creation of an herbal tea garden!
These are easy to grow and hopefully easy to find at your local herb-grower or nursery. There are SO many more.. but I wanted to share a few of my 'every year' companions and a couple of new friends! I have some more ideas for you but let's start here!
Let's keep it simple, to start. I'm going to share more but today here's a quick list ~
5 Herbs for your own herbal tea garden
Lemon Balm (melissa officinalis)
My absolute favourite herb — if the truth be told. Delicious as a fresh herbal tea and amazing herbal medicine — on so many levels. Her list of attributes is long and  "Melissa" is a powerful ally for a wide variety of issues. Check out the benefits of Lemon Balm here.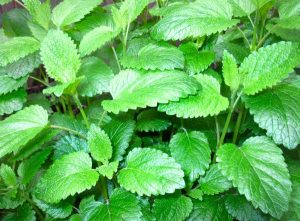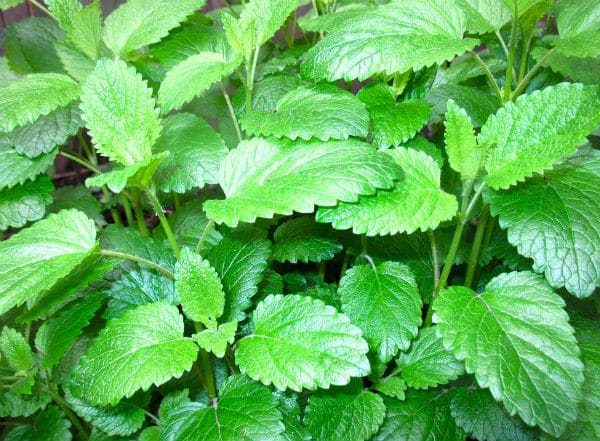 Mints (mentha spp)
There are hundreds of mint varieties! I grow peppermint (pungent intense), spearmint  (light minty flavour), apple mint (mild flavour with hint of apple detectable!)
This year I do also have chocolate mint and am looking for ONE more.. I want to try Orange mint this year. My friend Susan Belsinger, culinary herbalist, talks about this one:
"Orange mint (Mentha aquatica var. citrata), also known as bergamot mint (or "eau de cologne" mint). The fragrance and the flavor is reminiscent of Earl Grey tea, which is flavored with the essential oil of bergamot (Citrus bergamia). This tea, however, does not contain caffeine. It blends well with other herbs, such as the lemon-flavored ones, mint and also green tea."
(it's always just ONE more.. we'll see!) Do you have a favourite mint? Please share in comments.. It's easy. Love to hear your own 'go to' mint!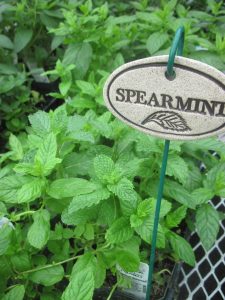 Chamomile  (Matricaria chamomilla or Matricaria recutita)

I always use this very special plant but rarely grow Chamomile. This year, in my tiny garden, I have 3 plants. I know that must seem so very few, to so many of our readers, with huge gardens. I will love and nourish my 3 plants!! We can benefit from this amazing gentle but powerful herbal ally. Some herbalists claim she is THE herb for tea and drink it every day! I cannot claim this but I do love her gentle taste and am filled with respect for her powers (stay tuned for my post on Chamomile!)
Tip: Try with equal parts chamomile and peppermint. Make a strong infusion, add a trickle of raw honey and some steamed milk for a delightful, uplifting tea latte!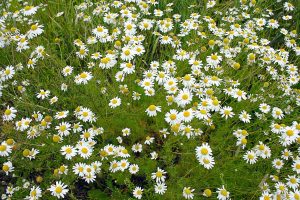 Fennel (Foeniculum vulgare)
Growing this one this year, after not, for a few years. Hoping to get this gorgeous feathery plant with sweet yellow flowers to produces seeds for tea. The seeds have with a delicate anise flavor that enhance digestion. I know it'd be easier to buy fennel seeds, and I do that, but wanting to enjoy this lovely plant ally and will add the young leaves to tea as well! It's all about the experiment!  More on fennel seed tea here.
Fennel seeds, as you may know: wonderful tea for nursing mothers to settle the stomachs of colicky infants.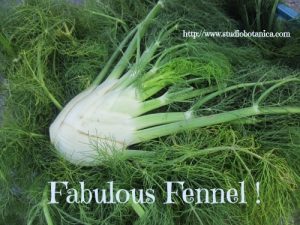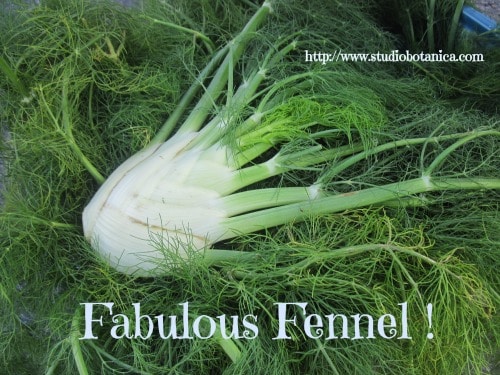 Sweet Cicely (Myrrhis odorata)
I am growing this one for the 2nd time. She's a new friend. I first heard about this herb many years ago on… yes.. Martha Stewart on T.V. when she first started out with a not to be missed DIY show. I recall that this herb was one of her "this is a good thing"  That was back in the 80's! I digress..  I am going to thoroughly enjoy the beauty of this sweet herb ~ and then dry the leaves and reserve to add a layer of 'sweet' to my teas!
Here's a lovely quote from my friend and culinary herbalist Pat Crocker:
"The light anise and subtle floral tones of sweet cicely  round out most herb tea blends and seem to give them a "polish" or finish. Teas that have even a pinch of this underrated herb as part of their mix boast a natural, gentle sweetness. I use sweet cicely in a ratio of about one fifth or sixth of the total ingredients in a tea blend. Sweet cicely leaves dry beautifully and can be rubbed to a fine powder just before popping into the pot. Although it may not be the solo note in the cup, sweet cicely supports and intensifies the orchestrated effect of blended tea herbs."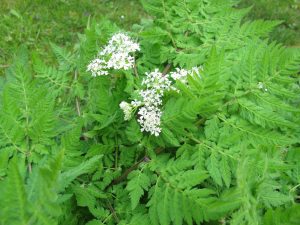 SO ~ there are 100s more.. but here are 5 of my own picks for now… I will add another few suggestions in this mini-series!!  There are sources for these herbal allies..
Search locally — as it's wonderful to support local herb growers and nurseries with the kindness to grow herbs from seeds.. Looking for plants? Try Richters ~ my dear friend Conrad Richter and his beloved family ~ have treated us to the fabulous world of herbs for generations! check Richters here.

What herbs are you going to plant to create your own herbal tea garden?
More on herbal teas and what to plant.. soon!!
green blessings,   Carol
Save
Save
Save
Save
Save
Save
Save
Save
Save
Save