Mushrooms ~ I love 'em! I didn't always. As a child, they were up there with
liver and turnip…but now….mmmmm. I love mushrooms.. whether it's Crimini, Portobello,
Shitake, Oyster, white, brown, Morels, or Chanterelles… Ontario is a plentiful paradise for mushrooms!
As an herbalist, medicinal mushrooms are a part of my practice and in this case we are talking about Reishi, Turkey Tail, Chaga, Maitake to name a few. These magic mushrooms ~ no, not the magic mushrooms from that rock concert years ago…LOL.. are a treasure in our herbal apothecary. That's another post…coming soon!
Reishi and friends are truly a gift from nature in the realm of immune boosters and definitely anti-cancer fighters.
In the kitchen, here are 4 of my favourite 'very adaptable' mushroom recipes!
Marinated Portobello Mushrooms
2016-05-08 11:21:03
Serves 2
These make a very tasty side dish but also go well with grains, grilled veggies, in omelettes... I guess we are only limited by our imaginations!
Ingredients
3 portobello mushrooms, stems removed and chopped into cubes
¼ cup balsamic vinegar
3 tablespoons olive oil
3 tablespoons pure maple syrup
Celtic sea salt and freshly ground pepper to your taste
Instructions
Mix all ingredients together and allow them to marinate for 2 hours or as long as 2 days.
Studio Botanica http://studiobotanica.com/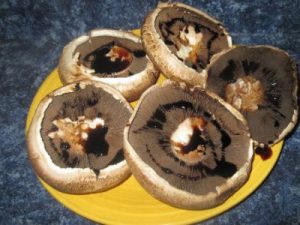 Portobellos ~ grilled with Balsamic
2016-05-08 11:22:41
Hardly a recipe ~ more a quick toss + so delicious! This is a favourite recipe, from Spring until late Fall in my house,  since we BBQ most of the year.
Ingredients
Portobello mushrooms, stems removed
Balsamic vinegar
Salt + Pepper
Optional:  chopped fresh thyme or oregano or rosemary or Herbes de Provence
Instructions
Pour a small amount (1-2 tbsp) onto each mushroom, where the stem used to be!
Allow to 'marinate' for 30 minutes to several hours. (Place in ziplock bag in fridge if planning to prepare hours ahead)
Put directly on the rack of BBQ and grill over medium heat.
Add S + P . If adding finely chopped herbs, do so just before serving.
Studio Botanica http://studiobotanica.com/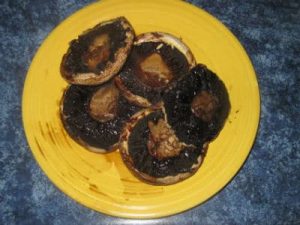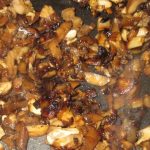 Mushroom Pate  (aka Duxelles en France)
2016-05-08 11:25:29
Ingredients
3 tbsp butter
1 medium onion, finely chopped
1 lb fresh mushrooms, finely chopped
2 cloves garlic, minced
2 tbsp tamari (or light soya)
1/4 tsp Black pepper
1/2 tsp thyme, dried or fresh (optional)
Instructions
In a large skillet, melt butter over medium heat.
Saute onion for 1-2 minutes to soften.
Add mushrooms ~ saute 4-5 minutes or until the liquid from the 'shrooms is released.
Reduce heat to low and add garlic, tamari, pepper and thyme if using.
As you continue to cook the mixture, it thickens after about 5 minutes.
Notes
This is so delicious served on just about anything!
As suggested by the folks at 'mushrooms Canada', this is perfect on thin baguette slices and pairs
very well with cream cheese or 'chevre'.
I like to make thin garlic toasts from 'ficelle' (thin baguette)
Studio Botanica http://studiobotanica.com/
This next one is more of a guideline, than a strict recipe. What do you have on hand?
This is what I typically have in my kitchen, but use what you have. Mushrooms love these and many more herbal 'friends'!
If fresh not available, use dried. Try to update your pantry ever 4 months if possible. Buy small amounts of herbs or dry your own if you garden. Fresh and then dried from the garden? Probably retain their 'powers' longer.
Mahvelous Mushrooms + Herbs
2016-05-08 11:26:49
Ingredients
2 Pounds Fresh Mushrooms
2 Garlic Cloves, finely chopped
1/3  Cup Olive Oil
Salt & Pepper
1/4 Cup Chopped Fresh Parsley
1 Teaspoon  Fresh Sage, finely chopped
1 Teaspoon Fresh Rosemary, finely chopped
1/2 Teaspoon Fresh Thyme, finely chopped
1 Teaspoon Balsamic Vinegar
Instructions
Preheat the oven to 350 degrees F.
Remove the stems from the caps, and cut into 2 inch pieces.
Mix the olive oil with all ingredients (except balsamic vinegar)
in an ovenproof casserole dish. (I have a 'deep' baking sheet that works well)
Add the mushrooms, and mix well, ensuring all mushrooms are 'coated'
Bake for about 35 minutes.
Remove from the heat, and drizzle with the balsamic vinegar.
Studio Botanica http://studiobotanica.com/
I'd love to hear your ideas about mushrooms and herbs ~ such a delicious, nutritious combination!!