101 EASY HOMEMADE PRODUCTS…FOR YOUR SKIN, HEALTH AND HOME!
So thrilled to share with you that my dear friend Jan Berry aka The Nerdy Farm Wife, has just released a fabulous collection of 'must make' recipes! She has created THE perfect compendium of classics and new DIY recipes to enable us to live our lives with more real ingredients. You can win a copy!!
Easy Homemade Products ~ great ideas for anyone wanting to add more 'natural' to their lives!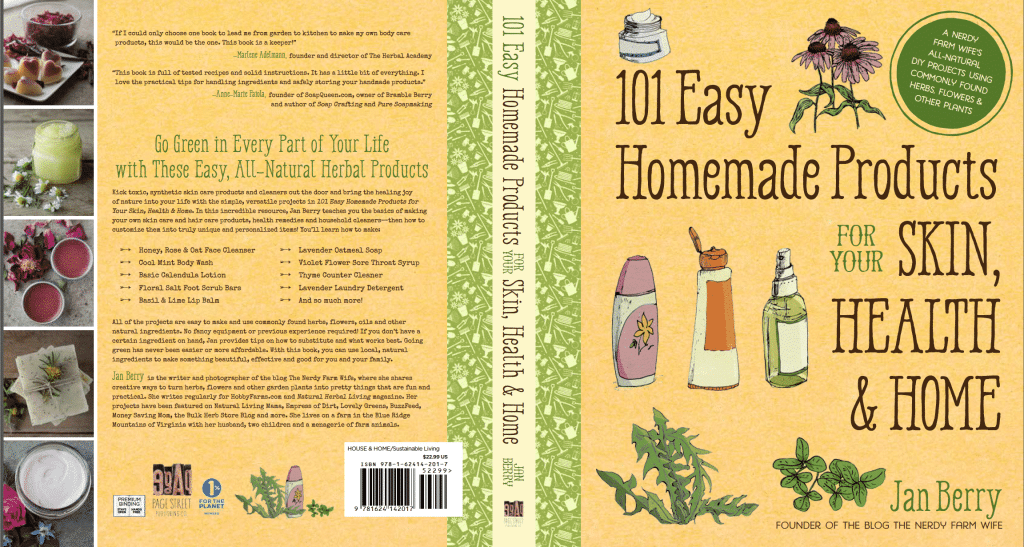 Chapters include: Non-Toxic Skin Care, Naturally Soothing Salves and Balms, Exotic Body Butters,
DIY Lip Care, Luscious Hair Care, Soaps, Herbal Home Remedies, All natural Pet Care and Non-Toxic Solutions for your home's care!
Whether you are a seasoned DIYer or a beginner, an experienced herbalist or a mom wanting to get away from some of the everyday household toxins around us ~ there are fabulous ideas for EASY homemade products waiting for you!
The fabulous full colour pictures, tutorials and guides make every page a pleasure to read and then there's the INSPIRATION!!
Jan explains it all from A to  Z ~ with an entire chapter dedicated to detailed easy-to-follow explanations which are well-written and informative. There's a section which lists common herbs and the corresponding recipes in the book. I got excited reading this part ~ Inspired I am ~ today I'm making a wonderful hair rinse with some nettles, harvested yesterday!  I am cooking up the nettles for lunch, drying some for tea, and now.. I am making a hair rinse with the rest!
Jan was inspired to write this book for many reasons. One that she mentions? To make good use of the plants around us; in our gardens or foraged. We don't need to throw them away, but can honour them with another helpful life-enhancing idea. I would have fed my compost pile with the remaining nettle, but instead, I am treating myself to a 'hair stimulating' herbal hair rinse.
I've been a passionate HerbGal for a very long time. I owned a shop where I made 100s of products ~ all from herbs, natural ingredients, essential oils ~ the original Studio Botanica. Jan's book is filled with some of my favourite classics from local herbal traditions and has so many new ones, with fabulous pictures, that I am motivated and thinking of new projects ~ new ways to look after myself and my family in these times when EVERYTHING we breathe in, put on, eat and drink ~~ is more important than ever before. You will want to buy this book ~ or maybe you'll be the lucky winner!! Can't wait for the 'draw' ? Buy your very own copy here!
101 Easy Homemade Products for Your Skin, Health & Home: A Nerdy Farm Wife's All-Natural DIY Projects Using Commonly Found Herbs, Flowers & Other Plants
To celebrate the launch of this precious collection of ideas, Studio Botanica is thrilled to announce THIS chance to win a copy!    a Rafflecopter giveaway